Employers appreciate global outlook, innovative spirit of overseas graduates; imported talent adds to competition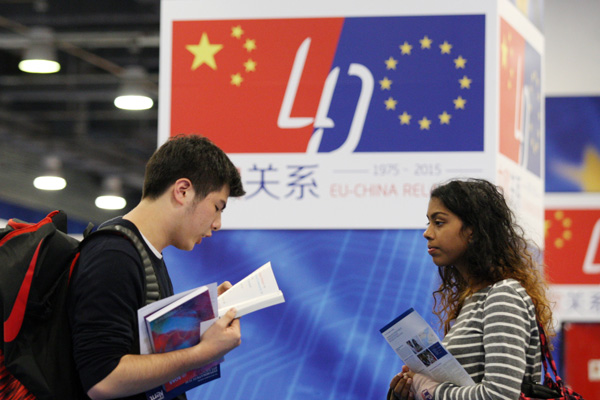 A student attends the 2015 China Education Expo in Beijing, Oct 25, 2015. [Photo by Wang Zhuangfei/China Daily]
The economic transformation China is experiencing is providing great opportunities for Chinese students returning from overseas study, although the returnees face challenges when hunting for jobs back home, experts said.
The nation's economy is evolving from one that rests on its population advantage to one that values talent. In the process, students who return from overseas study with international perspectives and an innovative spirit will have brighter employment prospects, said Miao Lyu, secretary-general of the Center for China and Globalization, a think tank in Beijing.
Miao made the remarks at a time when many in China have expressed concern that it may be more difficult for Chinese students to land a job after returning from study abroad.
In recent years, the number of Chinese students choosing to return home after graduating overseas has increased greatly-from 186,200 in 2011 to 409,100 in 2015.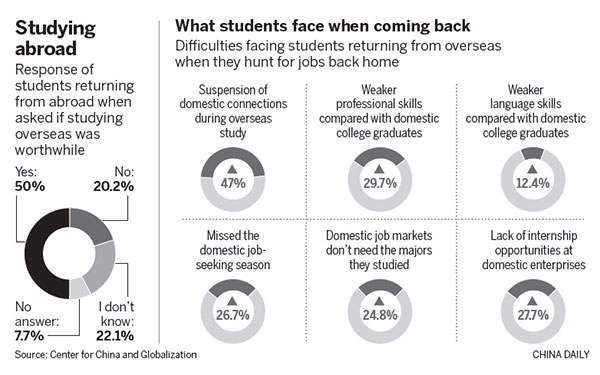 At the same time, the number of people graduating from domestic institutions in 2016 is set to be around 7.56 million-the largest number ever. The Chinese government is also loosening policies for expats wanting to work or start businesses in China.
Both the large number of domestic graduates and the expected influx of foreign talent have led some to worry that the employment prospects of students returning from overseas study might not be as good in the future as they were.
Zhou Chenggang, director of the newly launched Institute for Global Career Development, said such concerns are unfounded.
"China's need for talent won't shrink," Zhou said at a ceremony to celebrate the establishment of the institute in Beijing on Tuesday.
"Enterprises now tend to pay more attention to the personal virtues and abilities of their prospective employees, regardless of students' status and background-whether they are domestic students, expat students or Chinese students returning from overseas. In that sense, those returning from overseas have advantages."
The new institute will be carefully following the situation in the years to come because its role is to focus on academic research into the career development of international talent, Zhou said.
Guan Hongtao is a 26-year-old who returned to China to look for work after graduating with a master's degree in public health from the University of Queensland in Australia.
"Finding a job this year is not easy for anyone, given that China is facing a slowing economy," Guan said. "However, I noticed that many employers value my language skills, academic skills and so on. These helped me find a satisfactory job at a leading research-driven healthcare company."
But returning students like Guan do have difficulties to overcome when seeking work back in China. One of the biggest barriers is missing out on the major job-seeking season at home, according to a report released by the Center for China and Globalization.
"The job-seeking season for graduates starts in October or November, which is when most employers start accepting resumes and doing interviews. However, most Chinese students studying overseas will only graduate and be ready to apply for jobs in February, and start to look in July," Guan said.
Yu Zhongqiu, president of New Oriental Highway Career Service Co, a Beijing-based company that helps returning students find jobs at home, said only 5 percent of such students are able to secure a job before graduation. Most have to wait until after they graduate before they can search seriously for work because of the need to do face-to-face interviews or internships with prospective employers.
"We are cooperating with more career offices at overseas universities and more enterprises in China to try to break down some of these barriers, so students who are studying overseas but want to work back home can find jobs earlier," he said.