China's top students have increasingly been applying for niche liberal arts colleges instead of Ivy League schools as they have become more aware of their interests and needs.
Among them is 17-year-old He Qixiao, who studied at Chongqing Foreign Language School. In early February he received a full four-year scholarship from New York University Abu Dhabi worth more than $300,000.
When local media reported his success story, the university in the Middle East gained a level of name recognition it did not have before among Chinese.
Established in 2010, NYUAD is a liberal arts and research university known for its low enrollment rate, generous scholarship programs, global study resources and diversified culture. Last year it received more than 10,000 applications for the class of 2019, but just 360 students were admitted, giving it an admission rate below 4 percent, lower than that of Harvard University.
He, a straight-A student since primary school, picked the school himself.
"Compared with other top US schools, NYUAD is the best fit for me," he told China Daily.
What attracted him most was the school's rich overseas exchange program, diversified student body and exposure to Arab culture.
"The candidate weekend on campus was a most unforgettable life experience," He said. "The food there is strange but in a good way. And it was really a challenge to remember the names of my future classmates."
Anna Dechert, director of admissions at NYUAD, told China Daily via e-mail that Chinese mainland students formed the largest group following those from the United Arab Emirates and United States.
"Since our first class started in 2010, we have had students from China in each class, and our Chinese applicant pool has consistently been one of our largest," she said.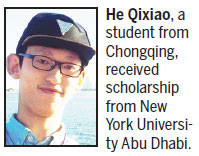 Chinese applicants come from various backgrounds. The university seeks students "who are fluent in English, have excellent performance in a rigorous high school curriculum and through extracurricular activities have had an impact on their school or community beyond their academic achievement", Dechert said.
In addition to his excellence in academics, He is active in extracurricular programs such as music and Chinese traditional culture, according to his teacher Wang Xijian.
Ran Wei, general manager of International Education Consultancy at New Channel International Education Group, said Chinese students have become more "mature and rational" when selecting foreign schools. "Students' interests, needs and personalities matter most," he said.
Two years ago, Chinese media covered the story of a student from Chongqing who was offered a place at Deep Springs College in central California, known for its low enrollment rate.
Another example, Ran said, is a girl from Beijing who scored well in her SATs and decided to study agriculture in the US. "For her, the school's ranking in agriculture study was the most important thing."
Deng Rui contributed to this story.