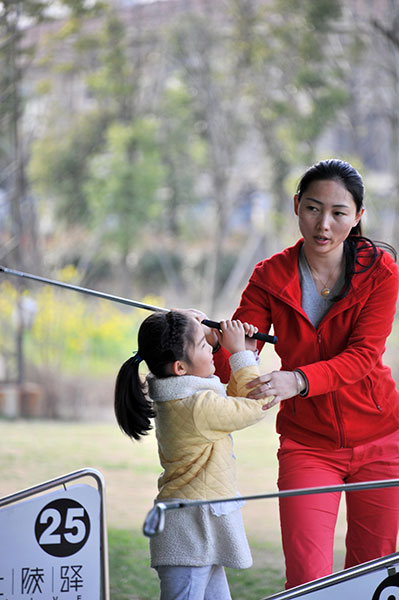 A pupil from Star Experimentary Elementary School practices golf under guidance of a coach in Changzhou, Jiangsu province, March 23, 2015. [Photo/VCG]
About 400 students at an elementary school in Shanghai began the spring semester by swinging golf clubs.
The Experimental School of Foreign Languages Affiliated to East China Normal University is the first public elementary school in China to introduce golf as one of its compulsory courses.
It said on its website that since the semester began on Feb 18 all first- and second-grade students must practice golf once a week.
Xia Haiping, the school principal, told Chinese media outlet The Paper: "Golf is not a high-class sport exclusive to the rich. It can be a popular game accessible to all."
Xia said the school added the course to its syllabus not only to improve conditions for junior students, but also to help them with etiquette.
Extra tuition fees will not be charged for students who take the course, which has been launched by the school and the Century Teenage Golf Program initiated by Shanghai Century Publishing Group.
It is estimated that there are more than 30 schools in China — private and public, elementary and secondary — that include golf as part of their physical education lessons.
The sport has become hugely popular among businesspeople in China. Many parents now hope that it can give their children an edge when applying for overseas university places.
In 1997, Shenzhen University in Guangdong province was the first educational institution in Asia to establish a golf college dedicated to training professional talent in playing and managing the game.
According to the sports management company Forward Management Group, there were about 32,000 junior golfers in China by 2013, and the number is rising.
In 2010, the group, in partnership with the Golf Course Builders Association of America, developed more than 100 golf programs in 30 Chinese cities. Most of the programs provide basic golf instruction to youngsters age 6 to 15.
Private golf tutors charge an average of 300 to 700 yuan ($46 to $108) per session in China. Despite the growing demand, insiders say there is a serious shortage of coaches for junior golfers.