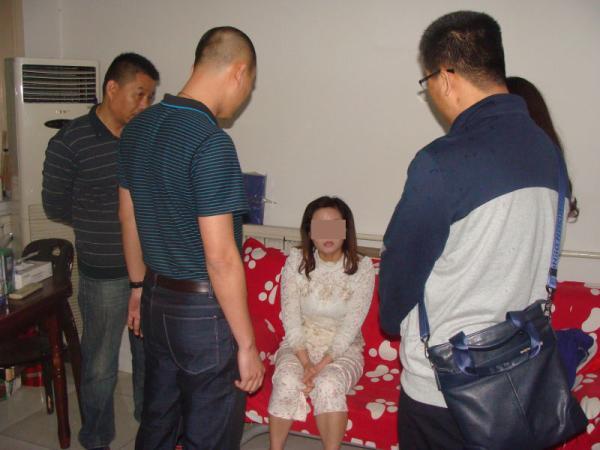 The mother, surnamed Pang, is being arrested by the police. [Photo provided by the police]
A mother and daughter from Shandong province have allegedly sold vaccines worth 570 million yuan ($88 million) illegally since 2010 in China, posing severe health risks to users, police said on Friday.
It is believed to be the largest case of its kind in China in terms of the amount of money involved, according to media reports.
The police in Jinan, the provincial capital, confirmed an earlier report by the Paper, a Chinese news organization based in Shanghai, that the two suspects allegedly sold vaccines that were not properly refrigerated, as required by national standards, in 18 provinces and regions across the country.
The police said they have started to trace possible victims.
Prosecutors are preparing to charge both the mother and her daughter with engaging in illegal trading.
The mother, surnamed Pang, age 47, is a former doctor from Heze in Shandong. She was given a three-year suspended prison sentence with five years' probation for the illegal trading of vaccines in 2009, the police said.
Vaccines are required to be refrigerated between 2 C and 8 C. However, Pang reportedly stored the vaccines in her home at temperatures of more than 14 C, where she piled up more than 100 packages of vaccines with a total of more than 20,000 doses. The vaccines were for 25 diseases including meningitis, poliomyelitis and rabies, according to the Paper.
Hao Yonggang, a police officer investigating the case, told the Paper that Pang and her daughter allegedly sold the vaccines obtained from producers to some disease control and prevention departments illegally, since the two had no license for conducting such business.
The fact that they are suspected of doing it for so long exposes flaws in the supervision system of the country's vaccine industry, he said.