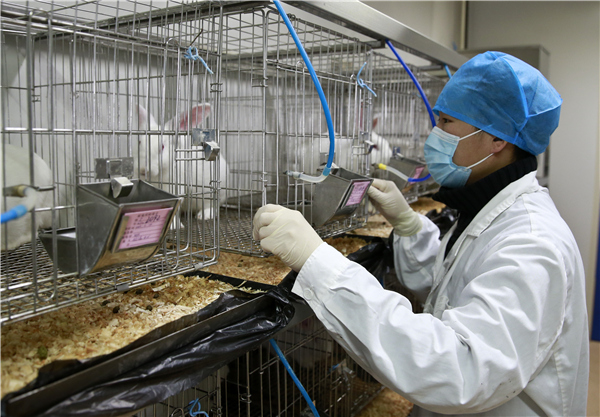 Rabbits are raised at the institute in an environment where temperature, humidity and air pressure must all meet national standards. [Photo/China Daily]
China is expected to adopt its first national standard on laboratory animal welfare and ethics by the end of the year.
This will mark a major legislative breakthrough for the protection of animals used in research and testing by the pharmaceutical and other industries.
The draft, which is available for public opinion until Sunday, is expected to greatly improve the welfare of laboratory animals in China, according to Sun Deming, chairman of the Welfare and Ethics Committee of the Chinese Association for Laboratory Animal Sciences.
"Although all users of laboratory animals are required to conduct welfare and ethics reviews, they adopt different standards, and some are too lax," Sun said.
Qin Chuan, the association's president, said the lack of legislation has become a bottleneck for the development of China's multibillion-yuan biological and pharmaceutical industries and other industries related to the use of laboratory animals.
The new standard, which aims to minimize the use of animals and also their pain, integrates the latest concepts and requirements for the ethical treatment of lab animals, Sun said.
It has been recognized by leading experts at home and abroad, Sun said during the two-day Sino-British Third International Seminar on Laboratory Animal Welfare and Ethics.
The conference in Hefei, Anhui province, which was co-hosted by the association and the British government, ended on Thursday.
"We drew on experiences and lessons in the legislation of laboratory animal welfare from other countries, such as the UK, when drafting the standard," Sun said. "If carried out, it will be of epoch-making significance for China's laboratory animal welfare and ethics."
The draft includes requirements for the production, transportation and use of laboratory animals, including qualifications for personnel, animal-raising facilities and the use of animals in testing.