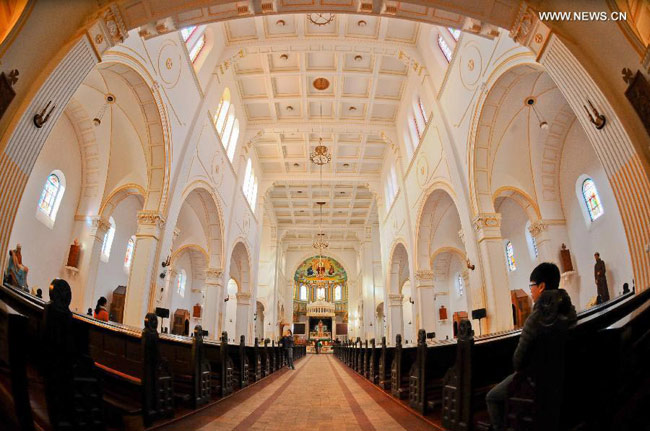 A Catholic Church in Qingdao, East China's Shandong province. [Photo/Xinhua]
Roman Catholic and Protestant groups in China face a severe shortage of clergy as the number of followers continues to rise, according to church leaders.
The 6 million-plus Catholics in the country are served by 3,316 priests and 5,622 nuns from 106 parishes, according to the Bishops Conference of the Catholic Church in China.
Liu Yuanlong, vice-president of the Chinese Patriotic Catholic Association, said the number of recruits to the priesthood in the Catholic Church in China has dropped sharply in recent years. Fewer than 800 trainee priests are receiving training at the nation's 10 major seminaries.
"The shortage of new recruits is a major problem for the Catholic Church in China," he said on the sidelines of the annual session of the top political advisory body, which ended on Monday.
He said some seminaries are smaller than a rural middle school and have just one or two newly recruited trainee priests each year.
Liu said the talent shortage is caused by a variety of factors, including underground churches.
"The lack of attention paid to church recruits by bishops has also made the problem more serious," he said.
He added that a rise in living standards has also resulted in fewer people who are willing to devote themselves to church service.
Li Shuxing, vice-president of the National Seminary of the Catholic Church in China, said seminaries have prioritized the training of priests who are patriotic and can adapt to society.
"The priests do not live in a vacuum. It is important for them to adapt well to society and serve their parishioners," he said.
Churches under the Three-Self Patriotic Movement of the Protestant Churches in China, which had more than 30 million registered followers as of last year, also face a lack of newly recruited clergy.
Gao Feng, president of the Standing Committee of the China Christian Council, said there are about 5,000 pastors and 6,000 Protestant elders in China, as well as about 190,000 leaders of voluntary groups.