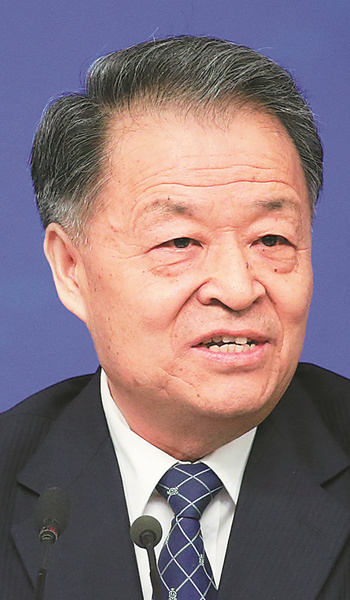 Yang Chuantang, minister of transport.
The minister of transport criticized car-hailing app operators on Monday for the subsidies they offer to users, describing the practice as unfair competition.
Yang Chuantang also pledged to better regulate paid rides offered by private car drivers.
Speaking at a news conference in Beijing, he said the subsidies are a short-term tactic to gain a bigger market share. "The apps are profit-driven and the subsidies will not be handed out forever," he said.
Taxi-hailing app Didi Kuaidi, backed by Internet giants including Alibaba Group Holding and Tencent Holdings, is in fierce competition with Uber Technologies in China. The cash-rich companies are heavily subsidizing passengers and drivers to gain a bigger market presence.
Uber CEO Travis Kalanick said earlier this year that the company lost more than $1 billion in China last year from subsidizing users.
Didi Kuaidi did not disclose the amount given in subsidies. Before a high-profile merger of two local apps last year, the Chinese company had pledged to subsidize projects worth more than 2 billion yuan ($310 million).
Didi Kuaidi and Uber face a regulatory dilemma in China. Regulations do not allow private cars to be used for paid journeys, but tens of thousands of such vehicles carry paying passengers in about 200 cities every day.
At the news conference, Yang did not say that private cars are being used illegally.
"A set of new rules, tailored for online car-hailing and other emerging services, have to be in place," he said, adding that local transportation regulators will have a bigger say in setting rules.
Yang said that he and other central government officials had used car-hailing services.
Didi Kuaidi applauded the minister's comments, saying they showed that regulators had listened to the company's suggestions.
"We have suggested that the government give local authorities more freedom in setting regulations," the company said in a statement.
Jia Kang, an economist and former director of the Ministry of Finance's Research Institute for Fiscal Science, said China needs online car-hailing and other innovations in the information technology sector to boost the economy.
"The country has to look for new businesses in the service industry as exports and other economic drivers weaken," Jia said.
In October, the Ministry of Transport unveiled proposed regulations for car-hailing apps in an attempt to rein in the sector.
Under the regulations, which are due to take effect later this year, private car drivers will not be allowed to offer journeys for payment without being registered. Car-booking platforms must also obtain permits from local authorities before providing services.
Didi Kuaidi obtained such a license from the Shanghai government last year to offer a service in the city.
About 21.6 million people booked private cars through mobile apps in the first half of last year, according to the China Internet Network Information Center. It did not have the figures for previous years.
Didi Kuaidi accounts for more than 80 percent of the market share in China, according to research firm Analysys International.