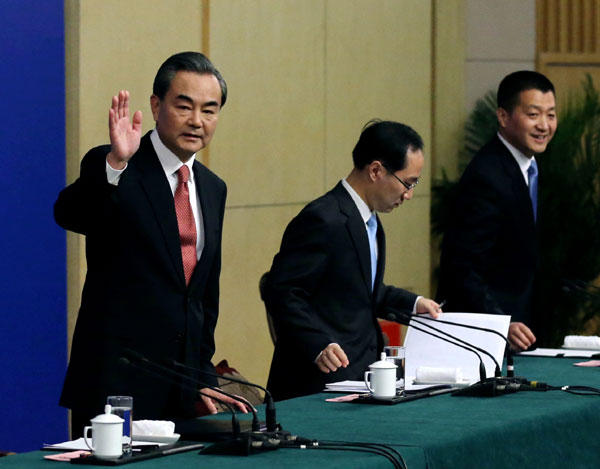 Chinese Foreign Minister Wang Yi greets reporters at a press conference in Beijing March 8, 2016. [Kuang Linhua/China Daily]
Chinese Foreign Minister Wang Yi ditched the tradition of taking the last question from a reporter at a news conference on Tuesday by reserving the honor for a Weibo post, toning down the two-hour session in which he faced thorny questions.
Surprising those present at an otherwise buttoned-down Question and Answer session, the Foreign Ministry solicited questions via its official account on Weibo, China's Twitter-like variant, and saved the best for the last.
The selected Weibo post - how country-level diplomacy connects with ordinary people – came at the end of the session that featured hard global politics topics such as the Korean Peninsula denuclearization, South China Sea and Middle East reconstruction.
To set an example how top leaders' overseas trips change ordinary people's life, Wang said the first cargo train between Yiwu to Tehran was launched in January, four days after President Xi Jinping's visit to Iran.
The train, also referred to as the Silk Road train, has passed through Kazakhstan and Turkmenistan to Iran, traveling a distance of 10,399 kilometers.
It started from Yiwu, a manufacturing hub in East China's Zhejiang province. Tens of thousands of businesses in the city, according to Wang, can now transport their products in a faster and more reliable way.
"For more details please check our Weibo account," said the Foreign Minister, who didn't miss the chance to reach out to citizens on social media.
The promotion had an immediate effect. After the press conference a user posted: "I didn't know that the Foreign Ministry has an official Weibo account before. Now I follow it."
The news conference was held during China's annual session of the country's top legislature, the National People's Congress.