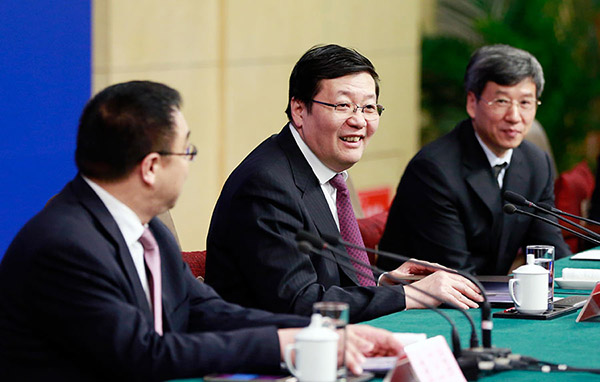 Minister of Finance Lou Jiwei gives a press conference at the press center of the two sessions, March 7, 2016, Beijing. [Feng Yongbin/chinadaily.com.cn]
China has made some progress in financial and tax reforms, but additional needed improvements have been slower than expected, Finance Minister Lou Jiwei said on Monday at a news conference for the annual session of the 12th National People's Congress.
Lou cited major completed reforms, including "the making and implementation of a budget that abides by the Budget Law, especially in terms of procedures and transparency", through which management of government debt has become more regulated.
"But there are still some old concepts and vested interests in the way of further reform," he added. "To overcome these difficulties, we need better top-level designs and need to strengthen coordination in solving contradictions in various fields."
The development of a workable, yet constantly improving, tax-division system and labor-distribution system is a complicated task for all countries, including China, Lou said.
Key areas of work include the value-added tax, taxation by local governments, property taxes and personal income taxes.
"We are now working with relevant departments to make a law for the house property tax, and are working on the reform plan for the personal income tax, as well as the other local taxes," Lou said.
One key change, the transformation of the business tax to value-added tax, was not finished last year, although the central government supported the reform in its work report last year, Lou said.
"Premier Li Keqiang claimed in this year's government work report the reform should be finished by May 1 this year. This is a deadline for our work," Lou said.
Another key ministry task is the study of the responsibilities of the central and local governments, and their access to relevant taxes, Lou said.
China has not yet established a local government tax system, or a reliable law-based revenue source for them, despite local authorities' long work list of caring for the people's needs. Apart from the central government's transfer payment, local governments turn to revenue from fees and selling land to make their budgets.
Environmental protection and food safety are two additional urgent important areas of responsibility for the Chinese government, and the finance ministry has work to do in both areas, Lou said.
"We still need a clear labor distribution among governments of various levels when it comes to such work. The governments' tax revenues are calculated according to their expenditures associated with their duties," Lou said.