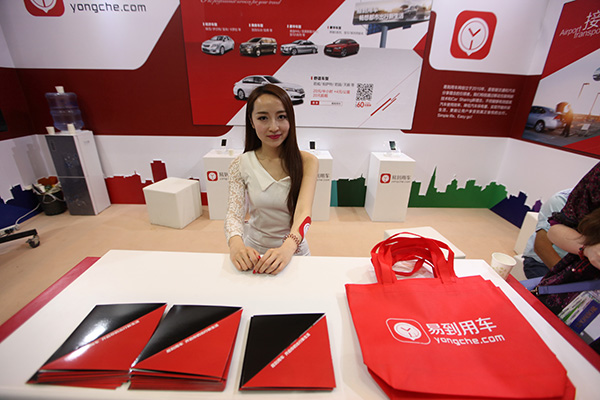 A Yidao Yongche stand at the Global Mobile Internet Conference in Beijing in 2014. [Photo provided to China Daily]
Car-hailing company has been losing ground to Didi Kuaidi as sector gets locked into price war
Yidao Yongche, the Chinese online car-hailing company, is eyeing a domestic stock market listing as part of its plans to challenge local giant Didi Kuaidi and US firm Uber Technologies Inc.
Zhou Hang, Yidao's founder and CEO, said it has already started preparing for a public listing after Internet company LeEco Holdings Co Ltd took a 70 percent stake in the firm in October.
"Local investors have a better understanding of our business, and this makes it easier for us to attract domestic capital," he said.
Zhou did not disclose any details on when and where a listing might be but the company said earlier it was valued at more than $1 billion after LeEco, the smartphone maker and online video provider, spent roughly $700 million on its controlling stake.
Zhou also said Yidao would launch an improved version of its car-hailing service in the first half of this year by leveraging LeEco's resources in new-energy cars, smartphones, online videos and e-commerce sectors.
Yidao has been losing ground to Didi Kuaidi, which is backed by Alibaba Group Holding Ltd and Tencent Holdings Ltd, as well as the San Francisco-based Uber as the car-hailing sector becomes locked into a cash-burning battle to subsidize both drivers and users.
Yidao currently handles 500,000 orders a day and is planning to raise that to 1 million by the end of this year.
"The key to surviving this fierce battle is to find the right business model, and Yidao is working closely with LeEco in that direction," Zhou said.
LeEco said on Thursday that its chief marketing officer Peng Gang would serve as the president of Yidao, and that its associate investment director Sun Ke would act as its vice-president, in the hope of boosting the company's competitiveness.
"We know it takes huge resources to get involved in the cutthroat ride-hailing sector," Sun Ke said on Tuesday.
"But LeEco will take whatever steps it needs, to equip Yidao with abundant ammunition."
Zhang Xu, a researcher at Beijing-based consultancy Analysys International, said thanks to LeEco's financial support, "Yidao is now the one offering the biggest subsidies to consumers and drivers among the major players".
But he remains skeptical that will be enough for it to catch up with its rivals.
Latest figures for the fourth quarter of 2015 suggest Didi Kuaidi holds more than 79 percent of the Chinese car-hailing market, with Uber accounting for 8.7 percent.
"Yidao's market share is so small that we have not even given it an independent reading," Zhang said. "We think it unlikely it will go public soon, as it still lacks a mature business model."