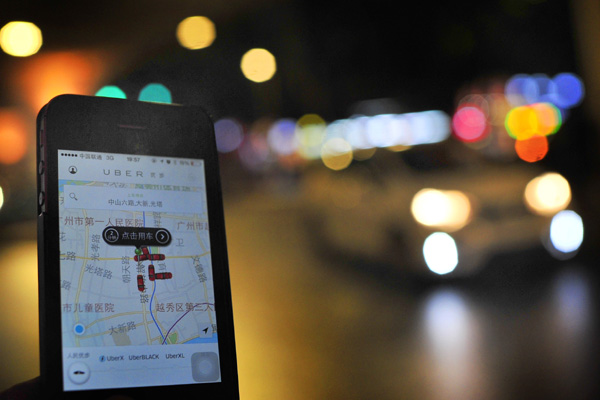 The car-hailing mobile app of Uber Technologies Inc. [Photo provided to China Daily]
Despite their popularity, the future of car-hailing apps is uncertain as they face resistance in more and more Chinese cities.
Uber, Didi and Yidao were told that they were suspected of illegal operations when they were summoned to a meeting on Aug 31 by transport authorities in Shenzhen, Guangdong province.
"Their operations are illegal as they offer services to passengers for profit," an official at the Shenzhen transport commission told the Southern Metropolis Daily, which is based in Guangdong.
However, the commission did not release any imminent plans to charge the three major car-hailing companies. Instead, they were ordered to change their behaviors and operate in accordance with Chinese laws, as they have been in other cities like Beijing.
Local authorities in Beijing have called two meetings with car-hailing companies, including Didi and Uber, this year.
They were told they were suspected of illegally organizing private cars for transport services, sending spam commercial messages and tax evasion and were ordered to abide by Chinese laws.
By the end of July, law enforcement officials in Beijing had punished 2,417 vehicle owners on charges of illegal operations. Of them, 1,211 offered services through Didi and 170 through Uber.
Experts are divided on the move. Some argue car-hailing companies are indeed disturbing the transport industry and aggravating traffic. Others counter that if taxis provided good service people would not need to hail private cars.
The central government holds a similar attitude toward car-hailing companies as local governments.
The Ministry of Transport said earlier this year that innovation is encouraged to improve transport problems but also made it clear that private cars are not allowed to offer rides for profit.
In August, the ministry and several other departments summoned Didi, Uber, CAR and Yidao to a meeting. What was discussed at the meeting was not made public, however, though the four companies pledged to abide by Chinese laws.