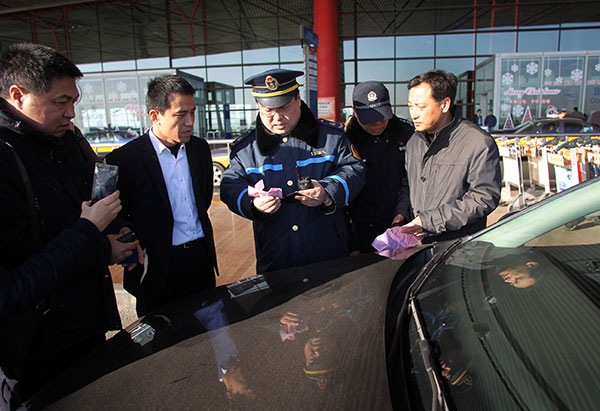 Police examine the licenses of drivers at Beijing Capital International Airport to see if they are registered drivers for commercial services in Beijing. [Zou Hong / China Daily]
Authorities ready to issue licenses to registered car companies
Shanghai's traffic authorities are going ahead with its own citywide car-hailing service and are ready to issue operational licenses to qualified drivers as the city continues to crack down on noncommercial vehicles who are shuttling passengers for profit.
Sun Jianping, director of the Shanghai Municipal Transportation Commission, said he hoped the city's car-hailing platform can complement existing taxi services and that the city is preparing to issue operational license to service providers.
"We are cracking down on illegal services, not on the hailing and reservation services," Sun said.
He said a lawful car-hailing service has registered drivers running licensed cars owned by a rental company.
The National Development and Reform Commission is reportedly eyeing new management regulations on the taxi- and car-hailing industry.
The Ministry of Transport said in May that a reform plan for the industry has been drafted and will soon be open for public opinion.
Wu Hongyang, an official with the Ministry of Transport, told National Business Daily that supervision on the taxi industry should be strengthened and that regulations and administrations should be improved.
Yiwu blazes new trial
In May, Yiwu, Zhejiang province, issued China's first regulation on the Internet car-hailing industry, stating that it will "encourage innovations for chauffeur and car services procured through the Internet."
Yiwu's transportation bureau chief Zhou Rongxing told Chinese media that car-hailing services are booked through reservations, while taxis are hailed while pedestrians are on the go, a dichotomy in which the two parts complement each other. Zhou added that the car-hailing industry is usually equipped with better cars and services at higher prices, meeting the demands of businesspeople and international visitors.
The city requires drivers on online hailing platforms to obtain registrations and certificates and the cars must be operated by companies instead of owned by a driver.
Gong Yichang, Yiwu's taxi administration official, said recently that the administration "will restrict the car-hailing business in prices and car models. The prices will be twice that of taxi charges; the cars will be no smaller than a midsized sedan and no cheaper than 200,000 yuan ($32,786)."
Beijing continues to wage its crackdown on illegally picking up passengers, though city transportation officials said they encourage new business models in the market.
The capital's authorities met executives from Didi Kuaidi and Uber in July. Although details of the meetings were not revealed, Beijing's traffic management bureau announced shortly afterward that it is encouraging new approaches to the car-hailing service.
The bureau recently said it has investigated and fined 207 unlawful cars this year operating on Didi Kuaidi's car-hailing platform, 161 of which were unlicensed private cars.
Wang Dawei, a lawyer at Junhe Law Firm who said he was voicing his personal opinion, said the crackdown is legal and that "even when the country opens up the sector, the stronger companies will be considered to be permitted at first. Because the authorities emphasize regulated services".
"The larger scale companies have more capital and more cars and they operate in more organized ways, so the government has more confidence in them."