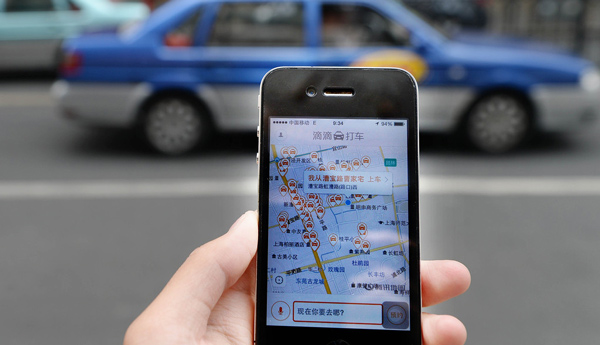 A Chinese mobile phone user uses the taxi-hailing app Didi Dache backed by Tencent on his smartphone in Shanghai, Oct 16, 2014. [Photo/IC]
BEIJING - China's biggest taxi-hailing app Didi-Kuaidi is seeking more than $1.5 billion of investment from banks and venture capital funds, said CEO of the company Cheng Wei in a Friday letter to shareholders.
After receiving more than expected bids, the company is considering to expanding the scale of the investment. Previous funding put the company at a valuation of more than $6 billion.
The funding comes as the ride-sharing app war is escalating in China, with almost all major ride-sharing apps using subsidies to attract passengers, which has put up costs. Both Didi-Kuaidi and Uber claim to have gained the upper hand.
Cheng said Didi-Kuaidi has taken 80 percent of the ride-sharing market while Travis Kalanick, CEO of Uber, said earlier Uber took some one million orders from passengers in China.
Because neither company has gone public, it is difficult to verify their statements.
Ucar, another ride-sharing app, launched a marketing war against Uber this week, saying Uber fell short in protecting passenger privacy and safety, but only received fierce backlash from Uber customers.
In the letter, Cheng also predicts that Didi-Kuaidi will have an annual revenue of some $12 billion by the end of 2016. Not specifying Uber, Cheng said Didi-Kuaidi has helped drivers pick up more passengers and earn more, even with less subsidies than its competitors.