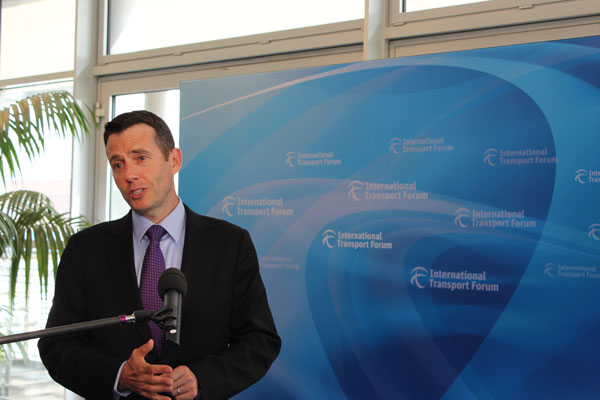 David Plouffe, senior vice president of policy and strategy of Uber, answers questions at the International Transport Forum in Germany on May 29, 2015. The ITF at the OECD is an intergovernmental organization that acts as a think tank and organizes an annual summit of ministers of transport. [Photo/China Daily]
Uber is confident of fair competition in what could be the world's largest market, said a senior vice president of the ride-hailing startup major.
"We will find a way to partner and move forward," said David Plouffe, head of policy and strategy, adding that China may be the best example in the world of where many options are needed to reduce traffic congestion and emissions.
The onetime manager of Barak Obama's presidential campaign gave an exclusive interview to China Daily on Thursday at the International Transport Forum (ITF) in Leipzig, Germany.
Plouffe said he is optimistic about the company's operation in China and "confident" that the company is in a fair play, despite recent inspections and the move made by Shanghai of officially acknowledging its counterpart Didi Kuaidi in a government-sponsored platform.
Uber's mission matches well with the authority's priorities, along with other competitors, he said. "We are eager to find ways to work together with the government".
The US-based ride-booking startup entered China last year and was ranked a remote No. 2 in the region by booking orders, according to Analysys. Didi Kuaidi, covering 61 cities, held nearly 80 percent market share in the first quarter, while Uber, serving only 9 cities, accounted for 10.9 percent.
Despite region-specific enforcement, the issue of legitimacy still hangs over the industry players, as current rules ban private passenger vehicles from making taxi-like for-profit trips.
Raids "not a surprise"
Last month, Uber's offices in Chengdu and Guangzhou were inspected for allegedly organizing private cars not qualified to provide passenger services.
However, Plouffe referred to the raids as "not a surprise". "It's just part of a process we are working through. We have seen it all around the world."
During the raid in Guangzhou, police confiscated a number of mobile phones, while drivers caught earlier had to pay fines of 30,000 yuan, according to a local newspaper.
Controversies have faced the ride-sharing juggernaut elsewhere, as its offices in Paris and Amsterdam were also raided by police earlier this year, reported Business Insider. Portugal and Germany have joined countries to ban Uber services, while India is pursuing a crackdown following an alleged rape by a driver.
"It's not only a theoretical question, because there's clearly demand and need," said the 49-year-old senior VP while pointing out regulatory progress.
The Philippines has become the first country in the world to introduce nationwide new regulations tailored for app-based service providers such as Uber, announced the country's Department of Transportation and Communications in May.
"In the US, one year ago, there wasn't a single new law for ride sharing. Now we see major cities that actually pass new laws," said Plouffe, adding that Nevada has just passed the bill to allow Uber's operation.