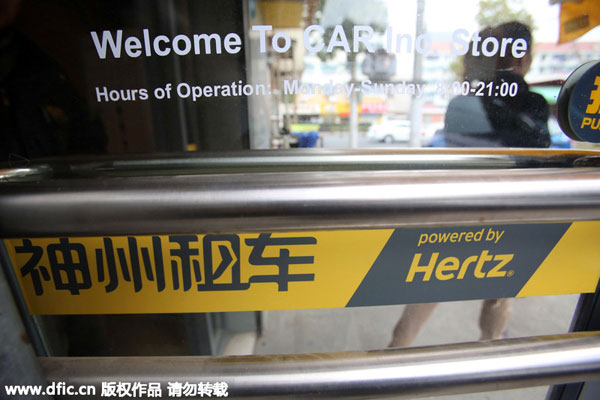 A shop branch for auto rental of CAR Inc in Shanghai, Feb 16, 2015. [Photo/IC]
It's no longer a daydream to get a free ride. The driver, wearing a suit, holds open the car door and carries luggage for you. It is thanks to the mass of coupons market players have been throwing around since day one of chauffeur-driven car-on-demand services in China.
UCAR, a separately-operated brand under the country's leading auto rental provider CAR Inc, is the latest contender in the "cash burning" match, as the company launched its chauffeured car services in January with an intended subsidy scale of at least 2.5 billion yuan.
Having only emerged since last year as an extension of taxi hailing, chauffeur-driven car-on-demand services have gained immediate popularity.
New forms of Internet-based spending, including online-to-offline (O2O) services will "come to thrive", said Chinese Premier Li Keqiang in his tone-setting speech for the country's economic development this year at the National People's Congress.
Positioned as an entry point for transportation other than a traditional auto rental provider, CAR plans to develop the chauffeured-car service as one of its main business and secure the highest daily bookings in three to six months.
Here we present a question and answer interview with Charles Lu Zhengyao, chairman and CEO of CAR Inc, or Shenzhou Auto Rental, about his insights into the booming market.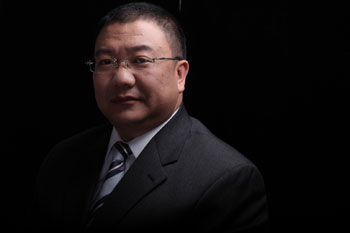 Charles Lu Zhengyao, chairman and CEO of CAR Inc. [Photo provided to chinadaily.com.cn]
Q: What prompted the company to launch chauffeured car services under UCAR Shenzhou private car and join a crowded market with taxi-hailing applications?
Lu: It is not a bad thing to let the bullet fly for a little while first. We want to thank our fellow competitors for cultivating the market, so customers won't be asking what the service is. Their only question is our differences. The company also considered the regulatory direction.
We are not late entering this race and now we are, it's not a small play. We have hired more than 10,000 drivers since the launch of the new business. Our drivers, different from others, are full-time employees offering a standardized service. They have to go through selection and training before starting work.
I grade passes to our service in the 60 cities which now offer a chauffeured car service. It's only been a very short period of time, but the lowest score I have in mind to achieve is 90. Because of the fast pace, our app and back-office system will need some time to adjust. I'm confident that we will do better.
We require cars to be in position five minutes after customers place orders. Our peers can hardly offer the same level of services. Cars can now be ready in 10 minutes, but I want it to be faster. That's where our strength lies, as we are supported by a whole analytic system.
Q: How much does the UCAR plan subsidize its chauffeured car services? How will the subsidiary affect corporate earnings?
Lu: We plan to draw 50 million new users. As the company is now offering each a 50-yuan coupon, this part's subsidy will amount to about 2.5 billion yuan. Besides, there's a promotion doubling a customer's balance for every hundred bucks they add into their accounts.