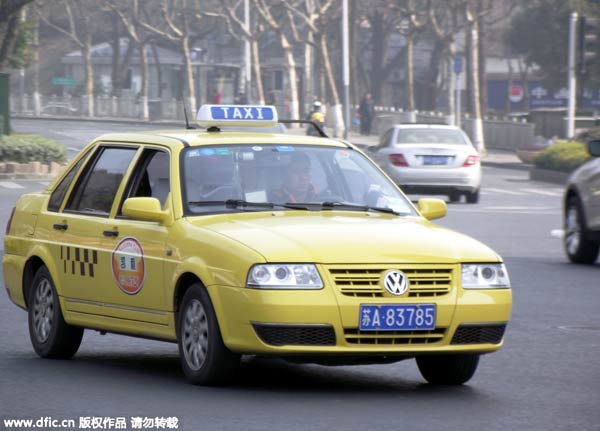 A taxi travels on a road in Nanjing city, East China's Jiangsu province, January 10, 2015.[Photo/IC]
Monthly franchise fees payable by taxi drivers in Nanjing, East China's Jiangsu province, were cut from Wednesday, with the biggest drop nearly nine percent, according to a post on the Nanjing government official micro blog.
Taxi drivers in Nanjing, Jiangsu province, joined a strike that has swept the country in January demanding a reduction of the monthly franchise fees paid to taxi companies, which eat up a large share of their revenues.
Nanjing is the first city in China to lower the monthly franchise fees in recent years.
The fee for a normal taxi single shift driver is reduced by 600 yuan, or 8.95 percent, to 6,100 yuan ($975.39), while for a double shift driver, it's cut by 200 yuan, or 2.85 percent, to 6,800 yuan, according to Nanjing Price Bureau and Nanjing Transportation Bureau.
In terms of medium- and high-grade taxis and new energy vehicles, the monthly fee a single shift driver has to pay is reduced by 700 yuan, or 8.33 percent, to 7,700 yuan, while for a double shift driver it's reduced by 800 yuan, or 8.51 percent, to 8,600 yuan.
The notice said that an empty return fee is payable from April 1, with 50 percent charged for more than 20 km as compensation for a possible empty return journey.
A strike by drivers protesting high franchise fees and competition from private cars using taxi apps began in Shenyang, capital of Northeast China's Liaoning province, on Jan 4, and spread to provincial capitals including Nanjing, Changchuan, Jinan, Chengdu and Nanchang.