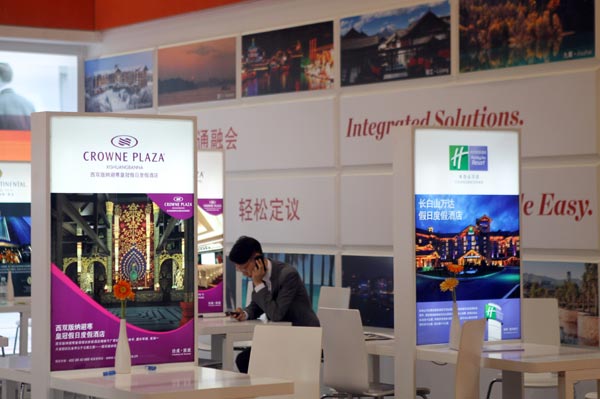 The booth of a business hotel at the recent Beijing International Tourism Expo. The country's business travel market is expected to show a 16 to 17 percent year-on-year growth in 2015. [Photo/China Daily] 
Market to expand 17%, helped by activity in new free trade zones
Business travel will continue to blossom in China this year on the back of robust growth rates fueled by a growing number of travelers seeking personalized experiences from high-end products, an industry report said on Wednesday.
The business travel market in the country will post year-on-year growth rates of 16 percent to 17 percent this year, according to the 2014 China Business Travel Market Report released by Ctrip.com International Ltd, China's largest online travel agency.
The report said apart from the steady growth expectations, speedy and further reforms of State-owned enterprises, easier financing options for small and medium-sized firms and more free trade zones will promote business travel this year.
"Most of these factors are also catalysts for the 'going global' efforts of Chinese enterprises. Other factors like the stable economic growth also have a multiplier effect on business tourism," said Liu Xiexie, marketing director of Ctrip's business travel department.
"Business travel will get a further fillip from the easier visa policies extended by several nations to Chinese citizens," Liu said.
The United States-based Global Business Travel Association expects that Chinese companies will boost annual spending by 18 percent this year, compared with the $262 billion spent on business travel in 2014.
The association also expects China to replace the US as the world's largest business travel market by 2016. The London-based World Travel and Tourism Council is even more optimistic and expects China to take the pole position in business travel this year itself.
Expectations aside, several Chinese companies have already started to increase business travel. Tiens Group Co Ltd, a Tianjin-based health products maker, plans to take its entire 6,400 salespeople and partners to France in May to commemorate the company's two decades of existence.