More countries expressed their will to join the China-led Asian Infrastructure Investment Bank as founding members recently.
Besides the Asia Pacific countries including South Korea, Turkey, Australian, New Zealand, Brazil in South America accepted on Friday China's invitation to join. There are also ten European countries applied to join AIIB.
Twenty-one countries, including China, India and Singapore, signed a memorandum of understanding in Beijing in October 2014 to build the AIIB. Six other nations, including Indonesia and Saudi Arabia, joined the body by Feb 9. As agreed, Beijing will be the host city for the headquarters.
The authorized capital of the AIIB is $100 billion and the initial subscribed capital is expected to be around 50 billion dollars. The paid-in ratio will be 20 percent. Founding members have agreed that GDP will be the basic parameter in determining share allocation among member countries.
The nine European countries and their 2014 GDP estimated by International Monetary Fund in Octorber last year are listed below :
No 10, Luxembourg
Estimated 2014 GDP: $64 billion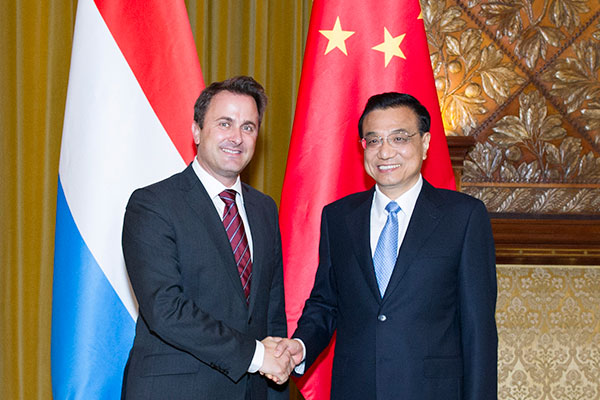 Chinese Premiere Li Keqiang (R) met Luxembourg Prime Minister Xavier Bettel in Hamburg, Germany, on Oct 11, 2014. [Photo / Xinhua]
Luxembourg on March 18 officially announced its application to joining the AIIB as a prospective founding member and submitted its candidacy to China.