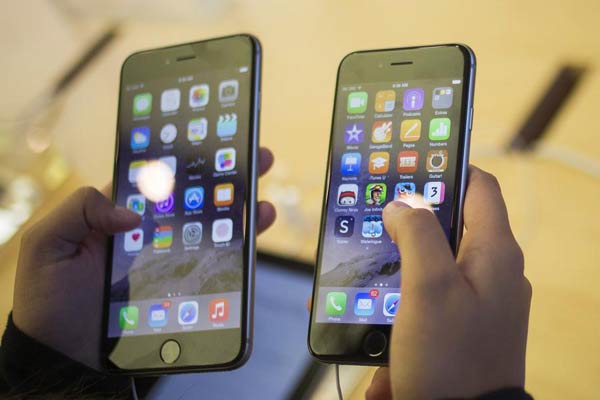 A customer holds an iPhone 6 (R) and iPhone 6 Plus at the Apple store on Fifth Avenue after the phones went on sale in New York in this file photo taken September 19, 2014. [Photo/Agencies]
iPhone's market share declined in the United States, Germany, Britain, Italy, Spain and Japan in the three months to the end of February, but in China, it has had a strong rally for four straight months, according to a Forbes report.
Data from market research institute Kantar Worldpanel ComTech showed that iPhone's market share declined in January and February in seven of the world's largest markets. Its share in the US fell from 47.7 to 38.8 percent, Japan, from 60.2 to 49.8 percent; Germany, from 20.9 to 17.4 percent; Britain, from 42.0 to 38.6 percent; France, from 23.0 to 21.6 percent; Spain, from 12.9 to 8.7 percent and Italy, from 18.3 to 17.5 percent.
Due to the effect of the launch of iPhone 6 and iPhone 6 Plus in October, China Mobile's 4G network rollout and the Spring Festival, iPhone's market share in China rose to 27.6 percent from 18.1 percent last November.
"Chinese need has been strong since iPhone 6 and iPhone 6 Plus came to the market, KWC chief researcher Carolina Milanesi said, adding that the situation continued up to the Spring Festival. Among iPhone users, China Mobile's subscribers account for 59 percent.
"iPhone 6 is still the best-selling smartphone in Chinese cities, and its market share rose to 10.2 percent in February, compared with 9.5 percent last month," said Tamsin Timpson, KWC Asian strategy analysis director.