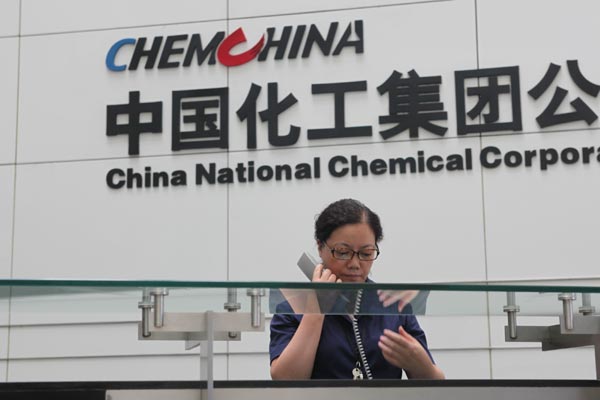 The headquarters of China National Chemical Corp in Beijing. The Chinese company is reportedly set to take control of one of the world's top tire brands, Pirelli & C. SpA of Italy. [Photo/China Daily]
Another Chinese company is in an international expansion mode. This time it is China National Chemical Corp, better known as ChemChina, which aims to take control of one of the world's top tire brands, Pirelli & C. SpA of Italy.
Initially, ChemChina will acquire a 26 percent stake in Pirelli with an investment just shy of $2 billion. But a general tender is expected soon after for the remaining Pirelli shares, which would take the total investment to approximately $7.4 billion.
The deal would be the largest cross-border acquisition by a State enterprise since China National Offshore Oil Corp invested about $15 billion in Canada-based Nexen Inc in 2012.
Gaining control of such a globally dominant tire brand will provide ChemChina with much greater access to the European market and, crucially, lead to permanent bases inside "Fortress Europe" and the United States, which will allow the company to circumvent import tariffs and trade barriers.
ChemChina will also benefit substantially from Pirelli's advanced technology platform, and that in turn will lead to increased competitiveness in the Chinese mainland market.
But what many observers have missed about the deal is that it is a State-owned enterprise that is leading an ambitious and determined international expansion strategy, which is much needed across Chinese industry generally.
The much-maligned SOE sector, especially the largest of these often unwieldy beasts, has often been sharply criticized for a lack of competitiveness and market orientation.
Millward Brown's BrandZ 2015 report on the 100 most valuable Chinese brands found that for the first time, private-sector companies in China have an aggregate brand value exceeding that of the SOEs.
The Pirelli deal signals determination and commitment to modernization and internationalization among SOEs. The investment is also one of the few international brand acquisitions that aim to gain full control of the target.
SOEs are making and executing international expansion strategies that are characteristic of those pursued by typical private companies.
ChemChina's plans for the Pirelli brand signal that SOEs are moving toward a more modern business culture, one that has strong similarities to a disciplined, market-led private-sector approach.
It appears that the Pirelli brand will remain intact and continue to receive significant investment, with a focus on high-end segments of the market, once ChemChina grabs the reins.
ChemChina has also made it clear that Pirelli's headquarters and hugely important research and development center will remain in Milan. Chief Executive Officer Marco Tronchetti Provera will stay on after the takeover is completed.
The Pirelli brand takeover is not just great news for Chinese industry, it is great news for the modernization of Chinese SOEs.
The author is a visiting professor at the University of International Business and Economics in Beijing and a senior lecturer on marketing at Southampton Solent University's School of Business. The views do not necessarily reflect those of China Daily.