Strategic investor says benefits of landmark initiatives would be felt throughout the globe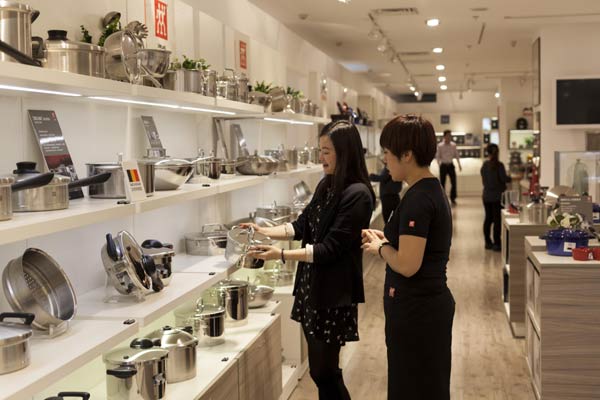 Consumers examine Zwilling products at a Zwilling shop in Beijing. China's premium-level cookware market is dominated by main suppliers such as Zwilling, Fissler and WMF.[Provided to China Daily]
Constant innovation, globalization and tradition are the core competitiveness of German kitchenware company Zwilling J.A. Henckels, according to its global CEO Erich Schiffers.
His company had a turnover of $722 million in 2014, with growth of more than 22 percent.
The company aims to become the No 1 supplier of premium goods for the modern living kitchen instead of merely a cutlery corporate, Schiffers said during an exclusive interview at the company's exhibition booth at the recent Frankfurt Trade Fair.
Founded in 1731 in Germany, the cutlery brand has become recognized globally with products available in more than 100 countries.
In recent years, Zwilling has brought its expertise to cookware designed for precision cooking and manufactured for culinary experts. For instance, it acquired the French castiron cookware brand Staub and Belgium premium cookware brand in 2008.
Tradition will serve as a strong base for the company's future, according to Schiffers, who became its CEO in September.
"The core competence of a company cannot be acquired. It grows," said the 50-year-old.
"When you concentrate on things that made you strong in the past, you also have a good guideline for the future. It helps you set priorities and avoid mistakes."
The company's tradition of producing quality-based, instead of price-based, products has driven it toward innovations, according to Schiffers.
Before turning to business, Schiffers served in the then West German air force for two years in the mid-1980s.
"In the military I got to know people from totally different educational backgrounds. To learn about how they think was a great experience," Schiffers said.
Schiffers, who had a strong interest in the combination of finance and marketing, later studied business administration and marketing, and acquired a cost accounting doctorate in 1993.