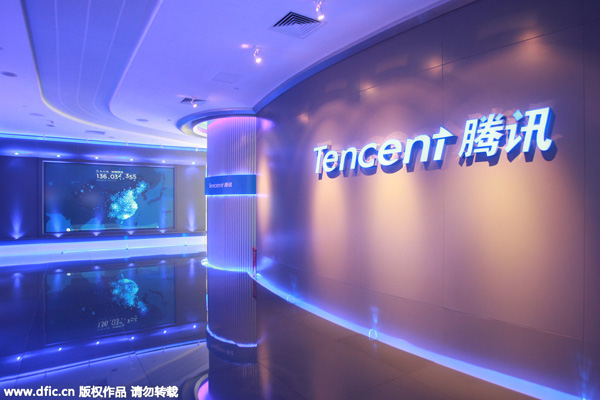 The logo of Tencent is seen at the headquarters of Tencent in Shenzhen city, South China's Guangdong province, 29 March, 2013. [Photo/IC]
Pony Ma Huateng, founder and chief executive officer of Tencent, has co-invested HK$1.22 billion for a 4.8 percent stake in the Joincare Pharmaceutical Industry Group, the company accounced.
Advance Data Services Limited, controlled by the 43-year-old Internet tycoon, made a general offer to Hongxinhang Company, Joincare's second largest shareholder, with Miaofeng Company controlled by Ou Yaping, chairman of SinoLink Properties, according to the statement.
Upon completion, Ma and Ou will be controlling shareholders of Joincare, with a combined holding of 74.39 million shares or a 4.81 percent stake, said the listed company in the filing to Shanghai Stock Exchange.
Founded by Zhu Baoguo in 1992, Joincare Pharmaceutical offers about 500 kinds of prescription drugs, OTCs and Chinese traditional medicines. The Shenzhen-headquartered company is known for its "Taitai" and "Jingxin" oral liquid products that contain traditional herbs specially for women's healthcare.
Leverage on mobile clinic
China's largest social networking platform is exploring a foray into the vast healthcare market, said analysts, as Tencent is a major investor and strategic partner in Joincare's latest project Qdoc, an application offering online medical services and serving as doctors' mobile clinic.
The application has drawn more than 20,000 doctors from 3A hospitals in the first two months since its official launch, said the Qdoc's homepage.
China's medical service and health care industry will likely continue to grow extensively this year with new business models emerging and taking shape, said the industry consultancy IDC in a report.
"New medical service and health management models will mature and develop a sustainable profit pattern," said Xiao Hongliang, IDC's senior research manager.
The IDC expects information technologies such as data analysis and cloud computing to drive the upgrade of medical services.