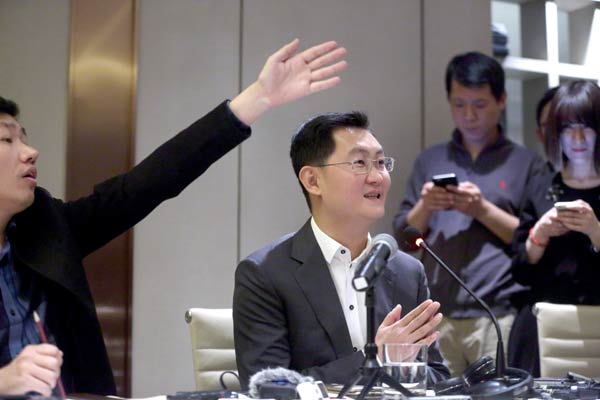 Ma Huateng, chief executive officer of Tencent Holdings, also an NPC deputy, answers reporters' queries in Beijing on March 4,2015. [Wang Jing/for China Daily]
Tencent Holdings Ltd, one of China's largest Internet firms based on market value, is working on a barrier-free technology standard that will allow its Internet-related products on mobile devices to benefit disabled people and the elderly, a top company manager said.
"Without barrier-free technologies, the elderly and disabled people will not benefit from the boom in Internet services," said Ma Huateng, chief executive officer of Tencent Holdings.
In a proposal to the annual session of the National People's Congress, Ma said that barrier-free technologies would give the elderly and disabled more education and employment opportunities.
China has about 85 million disabled people and nearly 200 million elderly people, many of whom have limited Internet access.
The nation began to promote barrier-free information and technology services in 2004, but a nationwide standard has yet to be issued.
"Tencent's standard for barrier-free technology will be promoted to the public after it is proven to be efficient and effective," said Ma.
According to Ma, Tencent recruited a team of disabled people and the elderly to develop and test its Internet-related products.
"I am a little farsighted. Sometimes I feel uncomfortable trying to read on a smartphone," said Ma. "I can't imagine how blind people use smartphones."
Ma called for more funds to be raised to support barrier-free technology and urged more Internet companies to get involved in the business.
Ma, who is also an NPC deputy, said in another proposal that China should implement an "Internet Plus" action plan to spur innovation and development among traditional industries.
"Integration with the Internet industry will help upgrade business for traditional companies," said Ma.
According to Ma, the booming Internet industry has done much to improve employment, medical care, education, transport and finance.
Tencent has cooperated with more than 5,000 educational organizations to provide online service, according to Ma.