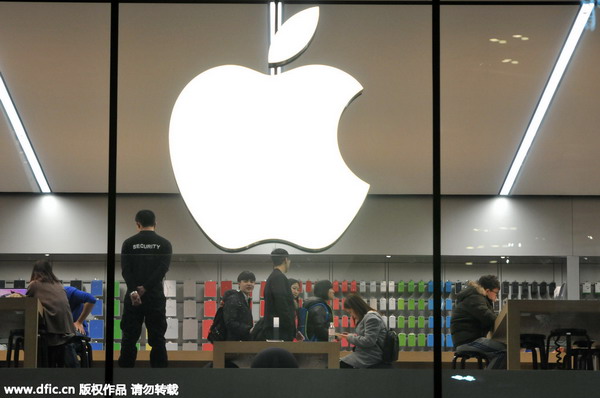 Chinese customers try out electronic products in the Apple Store at Shenyang Joy City shopping mall in Shenyang city, Northeast China's Liaoning province, March 14, 2015. [Photo / IC]
Apple announces its iPhone recycling plan in China on Tuesday.
Fans can trade in their old iPhones and iPads with Apple's latest products such as iPhone 6, 6 Plus and iPad Air 2. Others can also trade in their PCs for latest Mac computers. But consumers can only enjoy the service in Apple Stores.
Specialists in the Apple Stores will give their advice on the concrete depreciation price. Media reports say one iPhone 4s is worth around $80.
Apple has seen a soaring market in China in recent years, with the reservations for the Apple Watch to begin on April 10, and official sales on April 25.
Related:
Trade-in program expected to give boost to iPhone sales, By Meng Jing, China Daily
Apple Inc is planning to introduce a trade-in program for the iPhones in China after a similar program bolstered sales in the United States.
Consumers will be able to take older models to Apple stores for credit against the company's products as soon as March 31, according to a Bloomberg report on Thursday, quoting people familiar with the effort.
The company is partnering with Foxconn Technology Group on the plan, one of the people said. Apple China declined to comment when contacted by China Daily on Thursday.
China is a key part of Apple's growth plans, with demand for larger-screen iPhones fueling a record profit of $18 billion during the final three months of 2014.
A January report from research firm Canalys said that the popularity of the iPhone 6 and 6 Plus in China in the fourth quarter of 2014 has allowed Apple to become the largest handset vendor in the Chinese smartphone market for the first time.