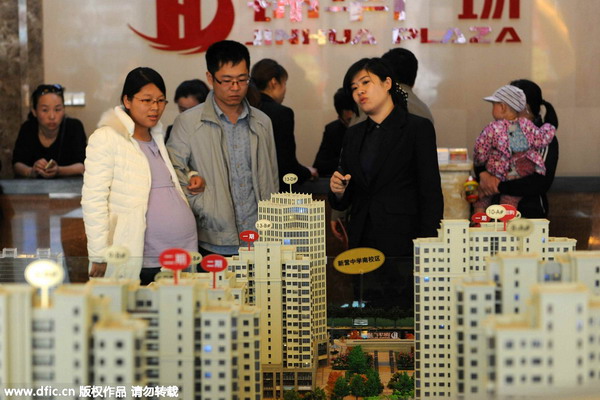 Potential buyers select homes at a housing sales center in Rizhao city, Shandong province, March 28, 2015. [Photo /IC]
The rate of decline in Chinese home prices slowed in March from February, two private surveys showed on Wednesday, adding to hopes the housing market is stabilizing as Beijing enacts policies to bolster economy.
Prices of new homes in 288 cities fell 0.01 percent in March, the 12th consecutive drop on a monthly basis, a poll by property services provider Real Estate Information Corporation (CRIC) showed. The drop slowed from a 0.06 percent decline in February.
But home prices were 1.71 percent lower compared to a year ago, from 1.62 percent in the previous month.
"The index has been falling for one year, but the monthly drop has been narrowing for four months," said CRIC, owned by E-House China Holdings Ltd.
China on Monday lured potential home buyers with a bigger tax break as it cut downpayment requirements for the second time in six months, stepping up a fight against sliding house prices that are imperilling the world's second-biggest economy.
The central bank cut interest rates in November and February and lowered bank reserve requirements to encourage lending. More cuts are expected in coming months as Beijing works to meet a growth forecast of 7 percent this year.
But as stock market investors cheer China's latest bid to boost an ailing housing sector, bankers are gritting their teeth over the risks they face in further relaxing rules on lending to home buyers.
A separate survey by China Real Estate Index System (CREIS) showed average prices in 100 of the biggest cities fell 0.15 percent in March on-month, also narrowing from a 0.24 percent fall in February.
Compared with a year ago, home prices dropped 4.35 percent, the sixth consecutive month showing an annual fall, compared to 3.84 percent fall in the previous month, said CREIS, a consultancy linked to China's largest property data provider, Soufun Holdings.
China Vanke Co Ltd, China's top property developer, said on Tuesday land prices in China have not yet returned to reasonable levels, suggesting limited demand.
The government is due to publish its March property price data for 70 of the biggest Chinese cities on April 18 after reporting its property sales and investment figures on April 15.