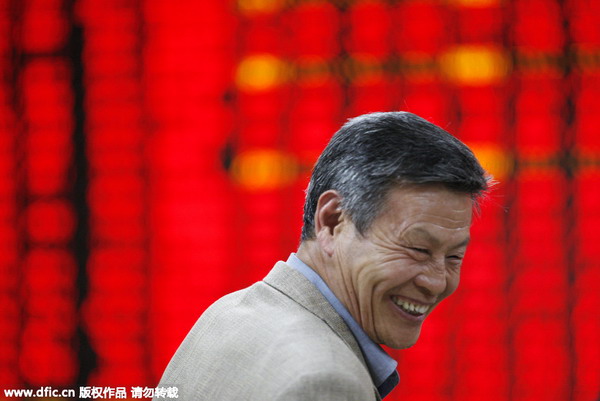 A stock investor smiles at a brokerage in Huaibei, Anhui province, April 1, 2015. [Photo / IC] 
To get a sense of the frenzy in China's world-beating equity market, consider this: In a two-week span last month, the rally lured 2.8 million rookie stock pickers, almost the equivalent of Chicago's entire population.
The number of new equity accounts surged to a record in the two weeks ended on Friday, five times the average of the past year, data from China Securities Depository and Clearing Co showed on Tuesday. About 4 million accounts were opened in March, enough for every person in Los Angeles.
And more than two-thirds of new investors have never attended or graduated from high school, according to a survey by the Southwestern University of Finance and Economics.
Signs of inexperienced investors' growing influence on the $6.5 trillion market have shown up in the outperformance of China's equivalent of penny stocks and a jump in price volatility to the highest level in five years.
While fresh capital may feed market momentum as the government steps up efforts to support economic growth, foreign money managers have been selling shares on concern the gains are overdone.
"A lot of speculative money has come into the market," Michael Wang, a strategist at hedge fund Amiya Capital LLP, said by phone from London. The rally "is not fundamentally driven. It's much more of a flow-driven phenomenon", he said.
The Shanghai Composite Index advanced 16 percent in the first quarter, extending its gain since the end of June to 83 percent, the most among the world's major stock indexes.
The gauge rose 1.7 percent to the highest level since March 2008 at the close on Wednesday.
Shares climbed to seven-year highs on Monday after the government cut the down payment requirement for second-home buyers, the latest step to boost the economy following two interest-rate cuts since November.
People's Bank of China Governor Zhou Xiaochuan signaled on Sunday that further stimulus may be on the way because economic growth has tumbled "a bit" too fast.
Individual investors, who account for about 80 percent of China's stock trading, are flocking to equities as slumping home prices and government curbs on wealth management products make alternative investments less attractive.
More than 10 million stock accounts have been opened since the start of December, equivalent to the total number for all of 2012 and 2013 combined.
Stocks in the large-capitalization CSI 300 Index that were quoted below 5 yuan (81 cents) at the end of September-shares that have long held an allure for amateurs-jumped an average of 63 percent through mid-January, versus a 35 percent gain for all index stocks and 11 percent for those priced above 50 yuan.