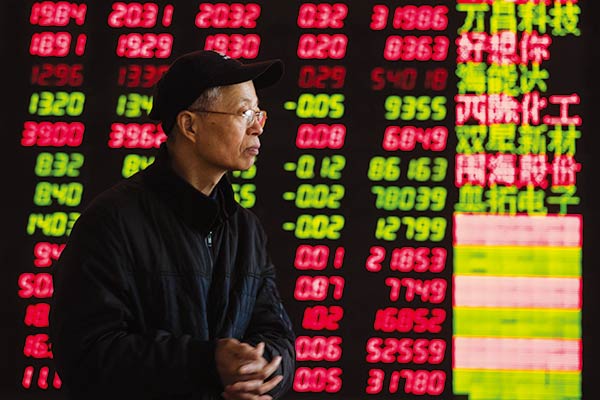 Stock information is displayed at a trading hall of a securities firm in Shanghai. [Photo / AFP]
Famines, wars and stock crashes aside, the year of the sheep has also produced stellar market gains
The Year of the Sheep, the eighth in the cycle of lunar new years, is around the corner. The sheep has a reputation as a thoughtful and gentle character but it has not always lived up to this characterization.
From famines and crashes in 1931 to the launch of the A-share market on the Chinese mainland in 2003, past sheep years have led to changes in the course of history and deeply impacted markets for both good and bad.
2003
This was an important year for the Shanghai Stock Exchange, which launched the A-share market for foreign investors. Turnover on the exchange rose 71 percent over the previous year, and 88.3 trillion yuan ($14 trillion at current exchange rates) worth of shares changed hands.
By the end of the year, the SSE 180 Index rose 12 percent and the Shanghai Composite 11 percent. The market in Shenzhen did not do as well, dropping almost 3 percent.
The year saw the beginning of serious e-commerce in China when Alibaba launched its e-commerce platform Taobao.
On the other hand, the sheep also brought with it the end of a technology bubble that had seen Internet stocks soar in Western markets.
An outbreak of severe acute respiratory syndrome started in Hong Kong and spread through Asia and much of the world.
The United States led an invasion of Iraq after having fought a war with the country in the previous year of the sheep. The end of this second Iraq War led to a stock market rally in the US.
1991
This year of the sheep-from Feb 15, 1991 to Feb 3, 1992-was pivotal as it was widely seen as the beginning of the third industrial revolution and the beginning of the Information Era.
It was in this sheep year that the World Wide Web first entered the public consciousness. Not only did the Web lead to a revolution in people's lives, it also generated some serious gains in markets. Through 1991, the Nasdaq rose 65 percent.
The First Gulf War ended in the spring of this year. Iraq had invaded Kuwait in August 1990 and an international force led by the US fought from January 1991. The year also saw a number of countries separating from the Soviet Union and eventually ending the Cold War.
The year ushered with it the end of a recession in the US that had started in 1990.