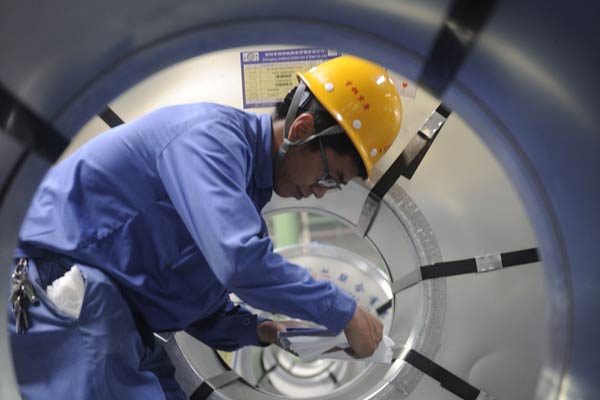 A worker is pictured in Shougang Jingtang United Iron & Steel Co on Aug 28, 2014. [Photo / Xinhua]
BEIJING -- Even as growth slows and labor costs skyrocket, foreign investors keep pouring capital into China.
Politically and economically stable, with a huge pool of still relatively cheap labor and improving infrastructure, China remains the powerhouse of global production. An expanding local market of increasingly rich consumers has attracted companies from around the world who want a piece of the pie.
Although China's growth slowed last year, the 7.4-percent rise is still the envy of most other countries.
For the first time since 2003, China has replaced the United States as the top destination for foreign direct investment - investor confidence indeed. For most, it is not just about a competitive manufacturing base, it is about proximity and access to China's vast army of prospective customers.
True, China is losing some labor-intensive manufacturers to lower cost countries, but high-end products are blossoming as investment shifts to more sophisticated sectors.
China's industrial clusters of raw materials and skilled labor, suppliers and logistics, designers and factories, all in one location, are hard to find in other countries.
While labor costs have risen in the developed coastal regions, interior provinces and smaller cities remain much cheaper and are now more accessible than ever due to better infrastructure.
As China strips away red tape, opens up more sectors and ensures equal treatment for foreign and domestic firms, it continues to present tremendous opportunities for foreign businesses.