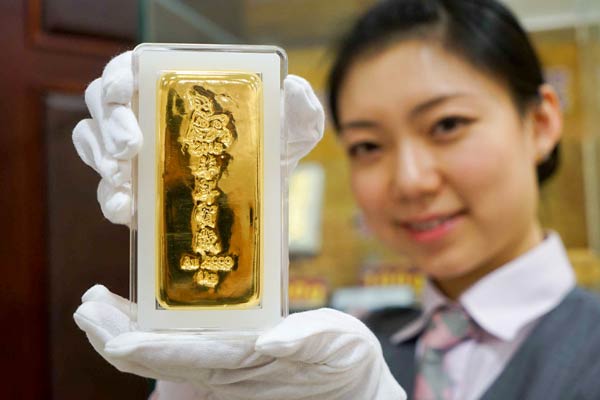 Gold bars marking the 2015 Sheep Lunar New Year, which are issued by China Gold Coin Inc. [Photo / Xinhua]
Gold shipments to the Chinese mainland from Hong Kong fell 32 percent in 2014 from a record a year earlier. The decline came from lower prices which failed to boost the purchases of bars, coins and jewelry amid a clampdown on corruption and an economic slowdown.
Net imports by the mainland were 750 tons last year, down from 2013 when shipments more than doubled to more than 1,100 tons, according to calculations by Bloomberg News based on data from the Hong Kong Census and Statistics Department. Imports in December fell 36 percent from the same month last year, according to the figures.
Demand for luxury goods including bullion has been hurt by an anti-graft drive in China, while volatility that sank to a four-year low and a rally in stock markets damped interest in the metal as an investment.
The buying frenzy that helped push China's consumption above India's after prices dropped into a bear market in 2013 hasn't been sustained, leading banks including Goldman Sachs Group Inc to predict further declines.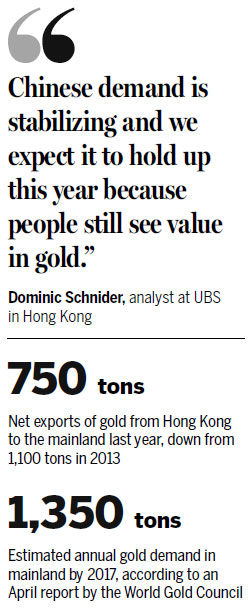 "Chinese demand is stabilizing and we expect it to hold up this year because people still see value in gold," said Dominic Schnider, an analyst at UBS AG's wealth-management unit in Hong Kong.
Bullion of 99.99 percent purity on the Shanghai Gold Exchange climbed 2.2 percent in December, advancing for a second month and helping prices rebound 1.5 percent in 2014 after a 29 percent plunge a year earlier.
Net gold imports declined to 58.8 tons in December from 87.2 tons the previous month.
Mainland buyers purchased a total 128.4 tons, including scrap, compared with 149.3 tons a month earlier, data from the Hong Kong government showed.
Exports to Hong Kong from the mainland were 69.6 tons in December. That compares with 62.1 tons in November. The Chinese mainland doesn't publish such data.
China's consumption of jewelry, bars and coins tumbled 37 percent to 182.7 tons in the three months to September as demand slumped at least 30 percent, according to the World Gold Council. Usage was 638.4 tons in the nine months through September, according to Bloomberg calculations based on data in quarterly WGC reports in May, August and November.
The London-based council said in April that its long-term demand outlook remained intact as consumption is expected to expand to at least 1,350 tons by 2017 amid rising wealth. Mainland demand was a record 1,275.1 tons in 2013, the council said in November.
In November, the People's Bank of China, the central bank, cut interest rates for the first time in two years and the government accelerated the approval of infrastructure projects to spur growth, fueling a 53 percent gain in the Shanghai Composite Index last year. Gold may benefit if investors pull back from the world's best-performing stock market in 2014, said UBS's Schnider.
While the world's second-largest economy expanded 7.4 percent last year, the slowest pace since 1990, the global flow of gold from west to east will probably last for as long as two decades, the China Gold Association said in June.