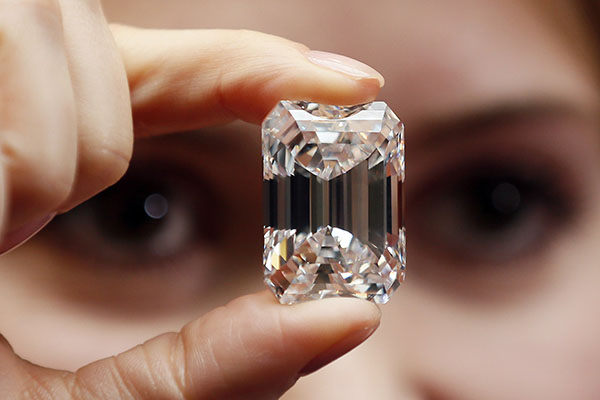 A staff member holds a 100-carat perfect diamond in a classic emerald-cut at Sotheby's auction house in central London, Feb 13, 2015. The diamond is expected to fetch between $19-25 million at the auction house's Magnificent Jewels auction in New York on April 21. [Photo/Agencies]
Gem sales hit $160 million in China during the second half of last year
Gold is traditional, when it comes to Chinese New Year gifts or investments - but not everyone is on the hunt for the yellow medal these days, preferring instead to plough their cash into something a little more sparkling.
Chen Hao, a 41-year-old Beijing investor, has done just that, splashing out 300,000 yuan ($48,000) on diamonds, with the simple rationale that despite a relatively low current price, the gap between supply and demand has been growing.
Global diamond prices have actually been falling over the past six months, about 9 percent year-on-year by December, according to data from Petra Diamonds Ltd, the diamond mining group and supplier of rough diamonds.
However, increasing numbers of Chinese investors such as Chen believe that the price will climb in the long run.
During the second half of 2014, diamond sales were worth 1 billion yuan, and sales of large-sized stones, those between two and five carats, surged 40 percent, according to data from cngold.com, a jewelry investment information platform. The Lunar New Year is always the busy season for sales of diamond jewelry.
However, many investors are well aware that according to recent reports from companies such as the world's largest diamond supplier De Beers Group, supply growth of the precious gem may stagnate over the next five years before beginning to shrink in 2020.
In many cities in China, newly-weds are reported to be buying more diamond rings and gold items.
Kent Wong, managing director at Chow Tai Fok Jewellery Group, expects China's demand for gold and diamond jewelry to grow between 12 and 15 percent over the next five years.
Investment advisors say unlike gold bars and coins, which are relatively standardized products, a diamond value and price is decided by many factors, but especially by whether a piece is considered "bling", or worth collecting.
"Consumers need to be clear: Is their goal to buy diamonds to be worn and enjoyed or for investment? The conditions for each may be very different," said Ma Juan, manager of Shanghai's Shenmei Jewellery Co.
As a rule of thumb, Ma offered a simple piece of advice: If you find something pleasing on the eye, then buy only if you wish to hold onto it for a long time.