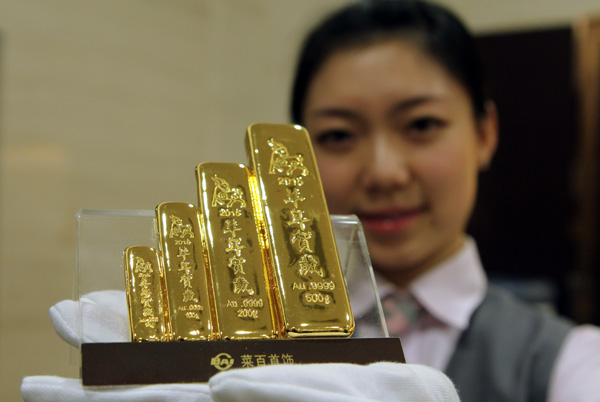 Gold bars celebrating the Year of the Ram on sale at the Beijing Caibai Shopping Mall. China is the world's top producer of gold. [Photo provided to China Daily]
The nation's banks are getting a bigger say in gold prices.
A new electronic daily gold price, which will replace the traditional London gold fixing, is set to go live in March, according to the London Bullion Market Association, which represents the London market for gold and silver.
For the first time, the LBMA has three Chinese banks as ordinary members: Industrial and Commercial Bank of China Ltd, China Construction Bank Corp and Bank of China Ltd.
Since 1919, there have been no Asian participants directly involved in gold fixing. The historic telephone-based system of fixing the daily gold price now involves only four banks: HSBC Holdings Plc, Societe Generale SA, The Bank of Nova Scotia and Barclays Plc.
The former fifth member, Deutsche Bank AG, resigned on May 12, 2014 without a replacement.
The new system will modernize the price-determination process in at least two ways.
First, gold prices should be determined by market forces of supply and demand, not the view of a few banks.
China is the world's top producer of gold, with the largest annual increase globally for 2013. It displaced South Africa as the largest gold producer in 2007 and it overtook India as the largest bullion buyer in 2013.
The London-based World Gold Council has forecast that China's demand will expand by at least 20 percent by the end of 2017.
While gold demand in China shrank for a third quarter in 2014 partly because of a nationwide anti-corruption campaign, the country is still a very main consumer of gold.
If Chinese banks can take part in the price fixing, it will increase the robustness of the data and better represent the gold market. At the moment, gold prices in China are set through trading on the Shanghai Gold Exchange.