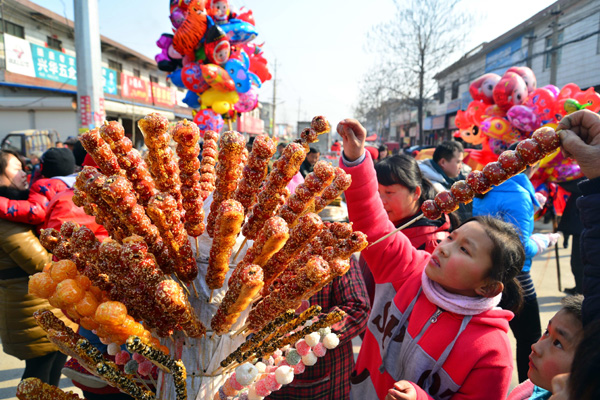 Children buy candied hawthorns at a market in Liaocheng, Shandong province, on Feb 10, 2014. Food prices rose 1.1 percent year-on-year in January compared with 2.9 percent in December. [Photo provided to China Daily]
BEIJING - China's Ministry of Commerce (MOC) said Tuesday that farm produce prices in 36 major cities rose last week as demand rises before the country's traditional Spring Festival, which falls on Thursday.
From Feb 9 to 15, average prices for 18 monitored vegetables surged 6.3 percent from a week earlier, led by cowpeas, green peppers and cucumbers, the MOC said in a statement.
Prices for chicken and eggs rose 1 percent and 0.5 percent respectively. The price of aquatic products rose 0.6 percent from the previous week, while beef and mutton prices both edged up slightly, the MOC said.
Higher demand for food products is typical around major festivals. The Spring Festival, or Chinese lunar new year, is the most important traditional festival for family reunions. People will enjoy a week-long holiday from Wednesday to Feb 24.
Food prices account for 31.79 percent of the prices used to calculate the consumer price index, a main gauge of inflation.
Related story:
Inflation rate dips to 5-year low in January by Chen Jia, China Daily
Inflation at the consumer level moderated to a five-year low in January, led by declining food prices, while deflation intensified in the industrial sector, reinforcing expectations for further monetary easing to stabilize growth.
The Consumer Price Index fell to 0.8 percent in January from 1.5 percent in December, the National Bureau of Statistics said on Tuesday.
It was the first time that the CPI had retreated below 1 percent since 2009. It was also the lowest level since the global financial crisis in 2008, when the figure bottomed out at a decline of 0.8 percent.