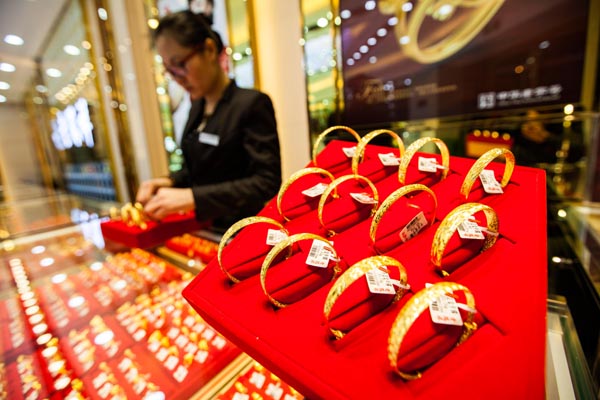 A saleswoman arranges gold jewelry at a shop in Lianyungang, Jiangsu province. Global gold demand fell by 4 percent last year to 3,923.7 metric tons. [Photo provided to China Daily]
Gold jewelry demand cooled in China in 2014, in sharp contrast to the frenzied off take in 2013, and plunged 33 percent year-on-year to 624 metric tons, according to data published by the World Gold Council on Thursday
India displaced China as the largest gold consumer in 2014 with demand for gold jewelry and investment exceeding 843 tons, compared with 814 tons in China.
Global gold demand fell by 4 percent last year to 3,923.7 tons as consumers bought less jewelry, coins and bars compared with the record levels in 2013, the WGC said.
Chinese consumers could not keep pace with the 2013 buying frenzy. In 2013, Chinese consumers bought 928 tons of gold jewelry after the yellow metal's prices dropped to a 32-year low.
"The continued government crackdown on corruption was also a contributing factor in the weakening jewelry demand, a pattern repeated across many areas of the consumer sector," the WGC's 2014 gold demand trends said.
The report said jewelry retailers in China were hit hard by the lower demand, with many of them reporting shrinking sales. Hong Kong-based gold retailer Chow Tai Fook Jewelry Group Ltd said gold product sales fell by 41 percent during the April to September period, compared with the same period in 2013.
"Despite this, I would not say that China's gold market is failing. The country's economic structure has been shifting and will focus more on domestic consumption and add more middle-class households. We expect significant and stable demand for gold," said Albert Cheng, managing director of WGC's Far East operations.
Relative to the five-year average of 590.7 tons, China's jewelry gold demand was up 6 percent in 2014, and it may continue to grow in 2015.