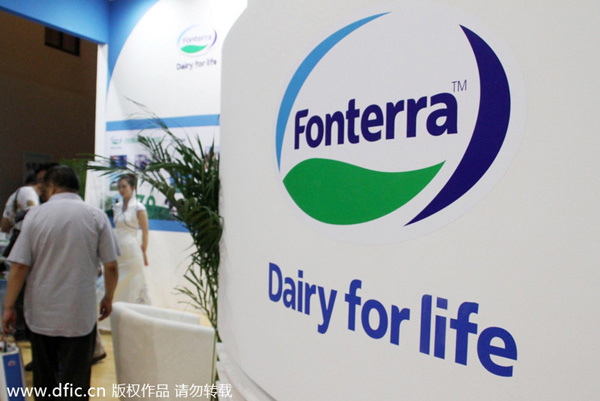 People visit the stand of Fonterra Cooperative Group Ltd during a dairy products exhibition in Beijing, September 12, 2013. [Photo/IC]
WELLINGTON - New Zealand dairy giant Fonterra said on Thursday that it had lodged a partial tender offer to buy up to 20 percent of Chinese infant food maker Beingmate.
Fonterra Cooperative Group Ltd said in a brief statement that the tender had been submitted to the Shenzhen Stock Exchange and it would remain open till March 13.
It was expected that the result of the partial tender offer for Beingmate Baby & Child Food Co Ltd would be announced on March 18.
Fonterra and Beingmate said in August last year that they intended to form a global partnership to help meet China's growing demand for infant formula.
The partnership will create a fully integrated global supply chain from the farm gate direct to China's consumers, using Fonterra's milk pools and manufacturing sites in New Zealand, Australia and Europe.
Fonterra said it would invest 1.17 billion New Zealand dollars ($859.15 million) in forming the partnership and building new processing capacity to meet export demand.
Fonterra would seek to buy up to 20 percent of Beingmate for 615 million New Zealand dollars ($451.6 million), and the two companies would set up a joint venture to buy Fonterra's Darnum plant in Australia and agree a distribution deal for Fonterra's Anmum brand in China.
Beingmate would own 51 percent of the joint venture in Darnum, which produces infant formula and other nutritional milk powders, and the plant would prioritize supply to the Chinese market.
Fonterra estimated the infant formula market in China was worth about 18 billion New Zealand dollars ($13.22 billion) and was expected to be worth 33 billion New Zealand dollars ($24.23 billion) by 2017.
Fonterra, which is building three major "dairy hubs" in China, had a 43-percent stake in China's Sanlu dairy company when it collapsed under the 2008 melamine-contamination scandal.
In August 2013, Fonterra announced a global recall of products connected with a batch of whey protein concentrate that was wrongly thought to be contaminated with a botulism-causing bacteria.
Fonterra claims to be the largest processor of milk in the world, producing more than 2 million tons of dairy ingredients and related products every year.