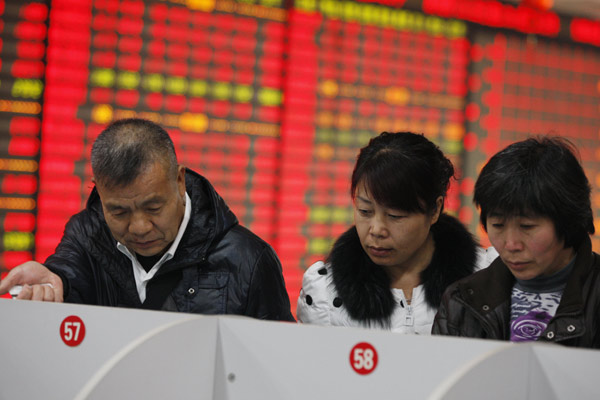 Stock investors at a brokerage in Huaibei, Anhui province. The Shanghai Composite Index gained 2.1 percent to 3,577.30 points on March 18, 2015. [Xie Zhengyi / For China Daily]
Chinese mainland shares rose to their highest level since May 2008 amid near-record turnover on speculation the government will do more to bolster growth.
The Shanghai Composite Index gained 2.1 percent to 3,577.30 points. The gauge has risen 77 percent during the past 12 months. Trading in Shanghai was almost double the 30-day average on Wednesday.
Interbank lending rates fell after the central bank lowered the yield in seven-day reverse-repurchase operations on Tuesday and rolled over 350 billion yuan ($56 billion) of loans to banks.
China Everbright Bank Co rose the most this year after saying it is considering separating its wealth-management business.
Pangang Group Vanadium Titanium & Resources Co jumped by the 10 percent daily limit to lead mining companies higher.
China Eastern Airlines Corp surged 6.3 percent, extending a three-day rally, as energy prices fell to six-year lows. A gauge tracking property companies added 2.1 percent. Data showed home prices fell in more cities last month.
"High trading activity means the stock market will be supported," said Yan Liu, a trader at Guosen Securities Co in Shenzhen. "Speculation of more stimulus to come is helping propel the market higher."
The CSI 300 Index rose 2.4 percent. Hong Kong's Hang Seng China Enterprises Index added 1.2 percent, while the Hang Seng Index climbed 0.9 percent. The Shanghai index is valued at 13.5 times estimated earnings for the next 12 months versus the five-year average of 10.3.
A gauge tracking financial companies gained 2.4 percent. China Everbright Bank, the banking unit of the State-owned Everbright Group, rallied 9.5 percent. The company is considering spinning off its wealth-management business, according to people with direct knowledge of the matter.
Poly Real Estate Group Co rose 5.1 percent, while China Vanke Co climbed 4 percent. Two interest-rate cuts in three months and the removal of property curbs have yet to revive an industry that remains a drag on economic expansion as Premier Li Keqiang set the lowest growth target of around 7 percent in more than 15 years.
The 15-year correlation between Chinese mainland and Hong Kong stocks is breaking down. While cross-border trade and capital flows have kept the two stock markets moving nearly in tandem for most of their history, that relationship is fading as the outlook for interest rates in the Chinese mainland and Hong Kong diverges.
The MSCI China Index's 60-day correlation with the MSCI Hong Kong Index fell to 0.31 on Tuesday, the lowest level since May 2000, according to data compiled by Bloomberg.
China's central bank is easing monetary policy to support growth even as the US Federal Reserve gets closer to raising borrowing costs - a move that will get transmitted to Hong Kong's economy through the city's currency peg with the dollar.
The People's Bank of China rolled over the medium-term lending facility due this month and added an undisclosed sum, according to a person with knowledge of the matter who asked not to be identified because the information hasn't been made public.