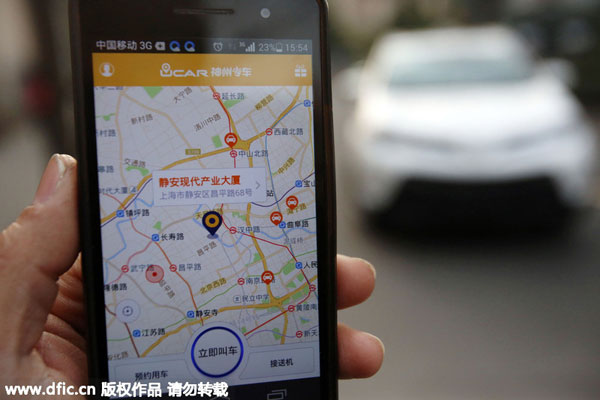 Information about customers calling for car service pops up on a map in UCAR app, Shanghai, Feb 11, 2015. [Photo/IC]
It's no more a dream to enjoy a free ride with the driver dressed in a suit holding the car door and even carrying the luggage for you, thanks to the heavy coupons companies have been throwing around since day one of chauffeur-driven car-on-demand service was launched in the country.
UCAR, a separately-operated brand under the country's leading auto rental provider CAR Inc, is the latest contender to the "cash burning" match, with the company launching the new business on Jan 28 with an intended subsidy scale of at least 2.5 billion yuan ($39.93 million).
Having only emerged last year as an extension to taxi hailing, the chauffeur-driven car-on-demand services have gained immediate popularity.
According to an online survey by Tencent Tech, 80 percent respondents have used unlicensed taxis in the past; 45 percent have tried chauffeured car services.
"The chauffeured car service will be a focus of competition in 2015," said Zhang Yanan, manager of the vertical industry research and consulting department of IDC China, adding that more announcements of deals and capital investments are expected in the sector.
Demand beats supply
Taxi shortage is a main reason behind the thriving "supplement market", according to the industry report by Tencent. The number of licensed taxis in Beijing, 66,000 in 2014, has barely increased in the past 10 years, while the city's population has grown by 7 million to 21.9 million.
"It can be a problem to look for a taxi, especially while traveling with elderly or children," said Zang Zhongtang, vice president of UCAR, to chinadaily.com.cn, adding that customers sometimes also need high-end cars for business purpose.
"Given China's population base and imminent cuts on government cars, the market will realize huge potential," said Zang.
UCAR, now offering chauffeured car services in more than 60 cities, plans to outpace competitors by daily orders in three to six months, said Charles Lu Zhengyao, chairman and CEO of CAR Inc.
"It's too early to say who will snap up the market. I expect competition to increase in the coming months," said Lu. UCAR offers each customer a 50-yuan coupon for their first ride and account balance doubles for every hundred yuan they add.
"We will not stop offering subsidies to our loyal customer as well as drivers," said Zhu Yueyi, co-founder and vice-president of Yidao, another chauffeured car service provider. The company expects its business volume to expand at least 10 times year-on-year in 2015.
"With Uber joining the competition, there will be another round of subsidy match," said Zhang Yanan, "mobile Internet-based players will keep filling in the 'sore spots' of traditional sectors and solve the travel inconvenience with the help of technology."
Regulatory uncertainty
However, the Beijing-based analyst added that the biggest risk comes from industry regulations, as a new guideline is expected be released soon.
"For market players, the cars used for rent should come from rental companies rather than private owners," said Zhu.
Yang Chuantang, Minister of Transport, said during the two sessions that regulators were holding a fourth round of in-depth market research, and the reform plan will likely be launched in the first half of this year.
"Private cars should never be allowed to participate in the chauffeured car services," said Yang in response to Beijing Times.
The minister added that the chauffeur-driven car-on-demand business has great development potential and auto rental industry is market-driven, other than dominated by government.