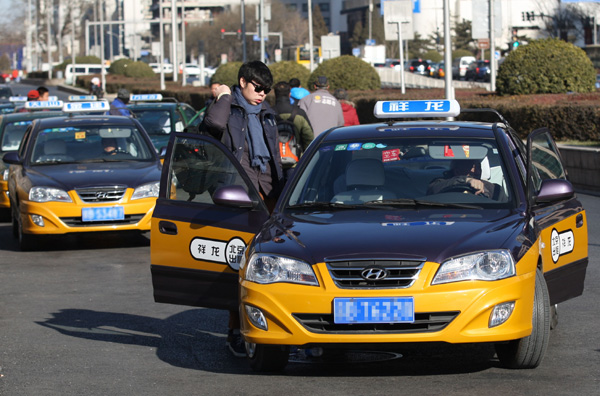 Taxis near Beijing Railway Station take passengers on Friday. Last Thursday, the Ministry of Transport has prohibited private cars from taking passengers for profit in response to strikes by taxi drivers in some cities. Wang Zhuangfei/CHINA DAILY
Strike by taxi drivers in protest against high franchise fee and competition from private cars using taxi apps spread to more provincial capitals across the country on Tuesday, reported China News Service.
Taxi drivers in Changchun, capital of Jilin province, went on strike on Tuesday. The protest was dispersed by police overnight, but the drivers again launched the strike Wednesday morning.
Cabbies in Jinan also joined the strike on Tuesday, with few taxies seen on the roads of the provincial capital of East China's Shandong province. Some of the taxis that defied the strike were smashed.
Strike was also reported in Chengdu, capital of Southwest China's Sichuan province, and Nanchang, capital of East China's Jiangxi province, where cabbies gathered on major roads and in front of government buildings in protest.
The strike first started in Shenyang, capital of Northeast China's Liaoning province, on Jan 4, and spread to Nanjing, capital of Jiangsu province, last week.
The major complaints of the cabbies are high franchise fee and unlicensed competitors using taxi apps.
The franchise fee is as much as 280 yuan ($45) a day in Changchun, and 400 yuan ($65) in Chengdu, according to local media.
Another reason is the emergence of Internet-based taxi-hailing services, which provides customers choice to call private cars without taxi license.
The controversial new service is called zhuanche, which means exclusive car, in China. It provides customers better services compared with licensed taxies, at a higher cost.
Last Friday, the Ministry of Transport banned taxi apps from using private cars.
The ongoing strike put the living conditions of China's taxi drivers under spotlight.
According to a survey of China's Twitter-like micro blogging service Sina Weibo, 73 percent of the 6,178 respondents believed "high franchise fee and low income" is the main reason behind large-scale cabbie strike, and half of the web users thought "zhuanche service will help break the monopoly in taxi market."