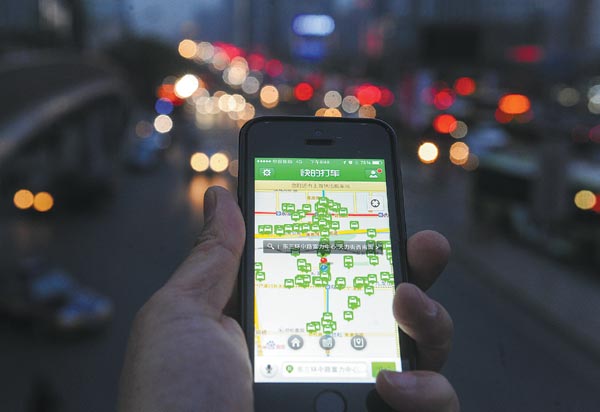 Car pick-up apps have been on the rise in China, but many are deemed illegal. The Chinese government encourages innovation in the sector, but it has vowed to crack down on illegal businesses. [Photo/China Daily]
Passenger safety must come first as the battle for fares goes on
China's Ministry of Transport has said that Uber-like taxi services cannot use private car owners because of concerns about passenger safety and security.
The ministry noted that the car pick-up services, which are operated through mobile phone apps, connect passengers to third-party companies' drivers. This, the ministry said, blurred the boundary between traditional taxi services and car hire businesses.
The process works like this: A driver takes a pick-up order on the driver-end app while passengers place their orders in the passenger-end app. They can then contact each other for further details.
The advantage of the platform is that it allows direct communication between drivers and passengers, replacing the traditional call center. However, this could make passengers vulnerable.
China Daily reporters put the system to the test, using the apps around Beijing. They chose the most popular pickup service apps, including Didi Dache, Kuaidi Dache, and Yidao Yongche.
They found that the vehicles they traveled in were usually cleaner and tidier than many taxis, with wi-fi connection and free bottled water.
However, some drivers were private individuals without a commercial license, even though Chinese law prohibits private car owners carrying passengers for profit.
Authorities in Beijing this month started to get tough with unlicensed commercial drivers. The municipal transport law enforcement team will impound cars operating without a commercial license until the driver pays an up to 20,000 yuan ($3,270) fine.