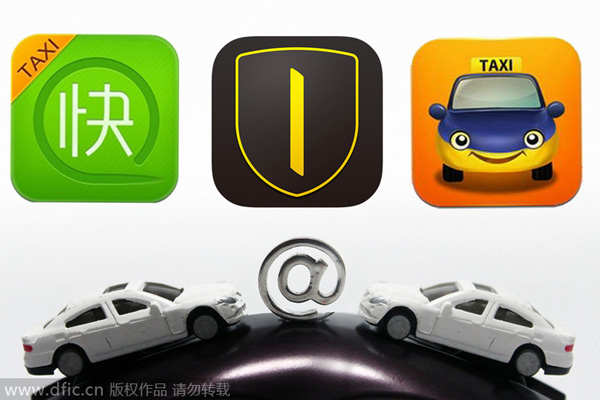 Premium car pick-up services through Uber-like mobile phone apps connect riders to third-party companies' drivers. By this the apps and services blur the boundary between traditional taxi and car hiring business. [Photo/IC]
BEIJING - A strike by cab drivers in the eastern Chinese city of Nanjing stretched into a second day on Friday, bringing the taxi management system into the spotlight again.
Five days before, a cab strike in the northeastern city of Shenyang brought services to a standstill in many areas.
The state taxi management system is characterized by stringent market entry requirements and a cartel of taxi companies. For commercial operations, a taxi needs to have a license (plate), which is different from a private car. Big taxi companies own thousands of taxi licenses, which can be traded on the market.
Following a fast growth in the late 1980s and early 1990s, the number of taxi companies in Beijing rose to 1,400 and the number of taxis to 60,000 in 1994. In response, the government decided to suspend the approval of new taxi companies and ban individual operations from that year. As a result, taxi companies began to monopolize the industry because of the fixed number of licenses available. Of Beijing's 200 companies which are currently operational, the ten biggest take about 70 percent of the market.
Beijing has almost the same number of taxis now as it did twenty years ago; 66,000. In that time the population has doubled and the same can be said for many other cities. Of those 66,000, only 1,157 are operated by private individuals, mostly on licenses granted before 1994.
Most taxi drivers have to rent cars from the ten big players. Wang Guifeng, 52, has been driving a taxi since 1998. He has to pay for fuel and repairs as well as a monthly rent of 7,000 yuan ($1,142) to the Beijing Shengdali Company. The company owns 100 taxis and has five administrative staff.
"Apart from collecting the rent every 15th day, the company does not care about us at all," said Wang, who earns an average of 5,000 yuan every month, a little less than the Beijing average. Back in 1998, he made more than 3,000 yuan a month, more than double the average at that time and enough for his family to live a comfortable life in the capital.
The situation has led to widespread abuse of drivers' rights, with taxi companies charging exorbitant fees. The price for a taxi license in Shenyang has been driven up to 800,000 yuan in the past 20 years, said Li Feng, a taxi driver. "A license owner can easily earn more than 100,000 yuan a year by renting it," said Li.
These fees have slashed the incomes of taxi drivers, forcing them to work more than 12 hours a day, to the severe detriment of their health and the safety of passengers.
Nationwide, 2.6 million taxi drivers lead lives as tough as their Beijing counterparts. The shortage of jobs and financial hardship have forced them into an industry of harsh conditions and low incomes.
Despite increasing complaints about the situation, few have challenged the status quo.
"I do not bother to complain to my manager any more," said Wang. "If you want to quit, nobody will ask you to stay," he added.
App competition, government backlash
The booming car-hailing apps are heaping more pressure on drivers.
Kuaidi Dache and Didi Dache, backed by Alibaba and Tencent respectively, account for almost 99 percent of the market with 154 million registered users in more than 300 cities.