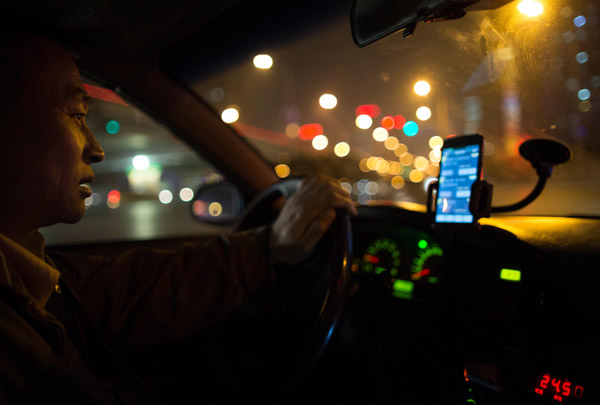 A taxi driver glimpses his smartphone when driving his car. [Mao Yanzheng / Asianewsphoto]
After experiencing a rat race in 2013, it seems that China's taxi-hailing apps market will witness a long-term duopoly situation.
On February 10, 2014, there were rumors suggesting that the battle between the taxi apps was coming to an end after Didi Dache, a Tencent-backed company, China's largest Internet firm, unexpectedly reduced it's subsidy from 10 yuan per order to 5 yuan per order.
However, just one week later, on Feb 17, Didi announced that 1 billion yuan (about $164.9 million) will be invested to subsidize passengers and taxi drivers if the passengers choose to pay via WeChat, a popular mobile instant messenger application in China, said xinhuanet.com.
According to the report, under the new incentive, regular passenger of Didi Dache can be rewarded maximum of 30 yuan per day while new subscribers will receive 15 yuan. For taxi drivers in Beijing, Shanghai, Shenzhen and Hangzhou, the subsidy is maximum 100 yuan per day, while for drivers in other cities the reward can be maximum 75 yuan per day. And for new driver users, the first order can fetch 50 yuan subsidy.
As previously reported by China Daily, Didi Dache announced the first incentive in January that encouraged passengers to pay taxi fares via Tencent's WeChat and the number of bills paid via WeChat topped one million within the first seven days of the program, costing the company 20 million yuan in subsidies. Didi later added 200 million yuan to its subsidy plan.
Kuaidi Dache, an Alibaba Group-backed company, which used to run a similar promotional program to compete with Didi, also updated its subsidy policy on Feb 17, 2014.
The company says its business slogan is "forever more than one yuan than its rival". Under its new incentive, 11 yuan will be rewarded if the passenger chooses to pay via Alipay, the country's largest third-party online payment platform and a subsidiary of Alibaba Group.
As a response, Didi increased its subsidy from 12 to 20 yuan per order on the morning of Feb 18.
However, the race seems to be a never-ending game.
At 3.00pm on the same day, Kuaidi, its rival, canceled its original subsidy plan and increased the subsidy of individual order to 13 yuan.