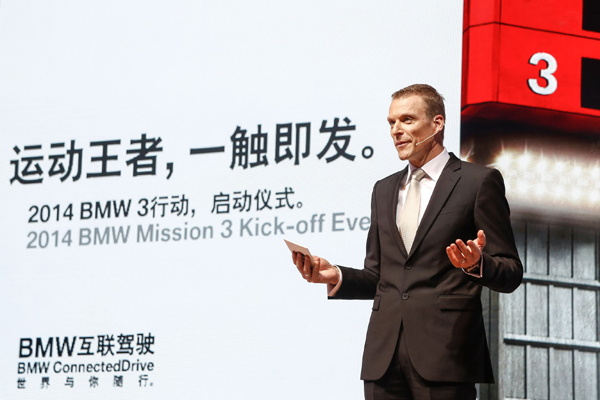 Peter van Binsbergen, senior vice-president for sales and marketing at BMW Brilliance Automotive, delivers a speech at the 2014 BMW Mission 3 Kick-off Event.[Photo/China Daily] 
BMW fans across the country can get their adrenalin fix after the brand launched its annual driving competition, Mission 3, on March 27.
"Since BMW Mission 3 was initiated in 2008, more than 300,000 people have registered to participate," said Peter van Binsbergen, senior vice-president for sales and marketing at BMW Brilliance Automotive.
He expects the figure to hit a record high this year as the event will cover 90 cities, twice the number in 2013.
Some 90,000 BMW owners and fans enrolled last year.
"Successful brands turn customers into fans and advocates and I am sure our Mission 3 fulfils this mission," said Binsbergen.
"The king of sport sedans is ready to start" is the slogan for this year's event, which offers new BMW 328i or 328Li models for contestants to test their driving skills and teamwork in a range of competitions.
Some 660 winners of the preliminary rounds will get the chance to test their passion for speed on the racetrack at the national final.
From these, 40 winners will be invited to experience driving at the Spa Grand Prix Circuit in Belgium, where the 3 Series won the Spa 24-Hour race in 1995.
The circuit is steeped in nearly 100 years of history and is regarded as one of the most beautiful in the world. The winners will also visit the German brand's headquarters in Munich.
"Dynamism of driving pleasure is hard to describe but easy to feel. So, we came up with the idea to bring our 3 Series back to where it belongs - the racetrack," said Binsbergen.
He said in past years the 3 Series won the Nurburgring 24-hour race twice and the World and European Championship title four years in a row, adding "these race cars find their DNA in our road cars which we sell to customers each day".
"It is not only about driving. It is about a challenging and winning sprit, which characterizes the values and lifestyles of our customers," he said.