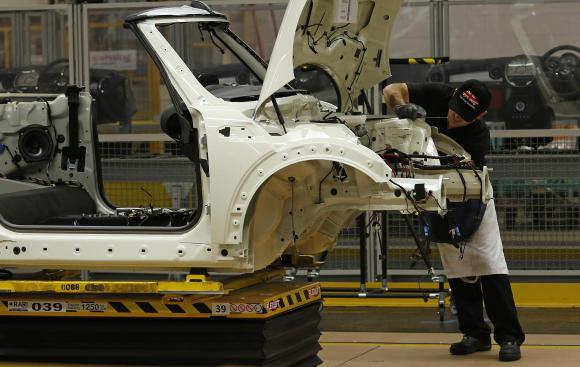 An employee works on a 2013 Mini at BMW's plant in Oxford, southern England November 18, 2013. [Photo / Agencies]
FRANKFURT - Luxury carmaker BMW on Monday said it would build the new MINI in the Netherlands from summer 2014 onward in a move to expand production capacity beyond its plant in Oxford, England.
BMW said the United Kingdom would still be the main manufacturing base for the MINI but said production of the MINI Hatch model would be split between Oxford and a factory in Born, Netherlands run by contract manufacturer VDL Nedcar.
The company expects MINI production volumes at the Dutch factory to reach a five-digit figure this year, with around 1,500 people responsible for building the new MINI.
true "The MINI brand is showing substantial growth," BMW's head of production Harald Krueger said in a statement.
"This is why we need additional, external production capacity on top of the capacity of the MINI plant in Oxford which stands at about 260,000 units per year in the medium term."
BMW Group is further diversifying production of the MINI as part of a growth strategy to reach a sales target of over 2 million vehicles by 2016.
BMW already has a production agreement with MSF in Graz, Austria where it made 125,559 MINI Countryman and MINI Paceman models in 2013.
Of the overall 303,177 MINI vehicles produced in 2013 only just over half, or 175,986 versions of the MINI Hatch, Convertible, Clubman, Clubvan, Roadster and Coupé models, were made in Oxford.
VDL Nedcar staff are currently receiving training on the BMW Group production system at the BMW plants in Leipzig, Oxford and Regensburg, BMW said.
Since the relaunch of the brand in 2001, nearly 2.8 million MINI vehicles have been produced, according to BMW.
More MINI stories: