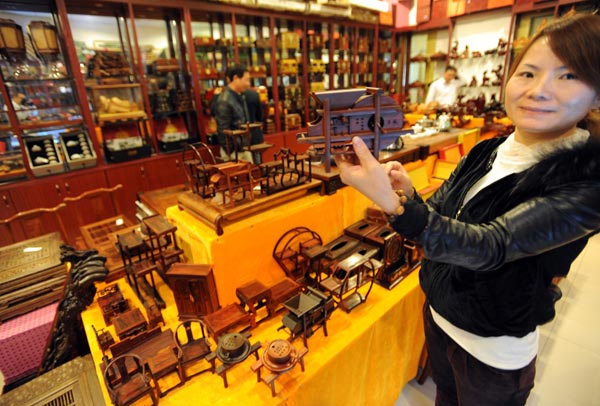 A customer shows a newly purchased rosewood handicraft-a miniature version of a traditional Chinese thresher-at a local furniture market in Dongyang city, Zhejiang province. [Photo/China Daily]
Buying a piece of furniture from Nanaholy comes with a free history lesson
Jin Zhangxi, the chairman of Nanaholy Furniture Group, likes to think he offers his customers something a little special. The items he sells are not just pieces of furniture, he says, they are cultural symbols.
Based in Yiwu, a city in Zhejiang province, Nanaholy is China's largest rosewood furniture manufacturer in terms of output value.
It employs more than 200 highly experienced designers and 400 technicians, and is considered both the country's largest manufacturer of Chinese-style furniture but also its most sophisticated in terms of research and development into what it considers is a centuriesold tradition.
In 2013, the company's total output reached more 1.5 billion yuan ($240 million), an 18 percent annual increase.
Apart from supplying the domestic market, the company sells to Southeast Asia, Japan, South Korea, Europe and the United States. It claims to be able to provide more than 1,000 different products, aimed at both high-end and low-end customers.
Jin says, however, that although the company has become the largest in China, he is still not satisfied with its achievements.
"We are still at the stage of merely selling products. But to progress, we have to promote the company more as a cultural enterprise," he says.
"After all, many manufacturing industries inevitably die over several generations, but the cultural industry will last forever," he says.
Since 2008 the company has spent more than 4 million yuan on R&D because it believes that Chinese-style furniture is an integral part of the country's culture.
"Our ancestors have left us a great legacy," Jin says.
"The dragon carvings on furniture, for example, carry many different meanings: the number of toes the dragon has, the direction of their tails, even the clouds around their heads-they all have significance."