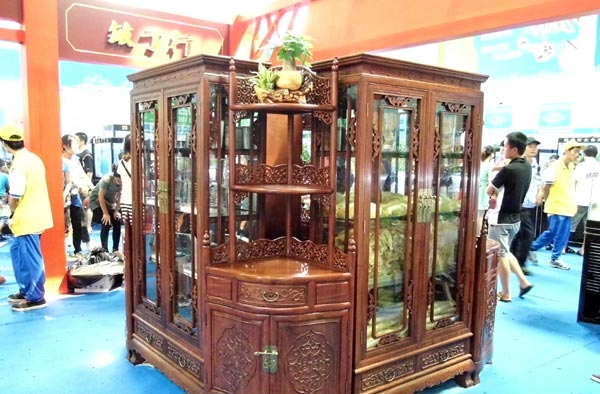 Li Liming, chairman of the Dongyang Rosewood Furniture Association. [Photo/China Daily]
Rosewood furniture is fast gaining popularity and is no longer the preserve of the wealthy 
Rosewood furniture seller Wang Zhiyi is having a bumper year.
He has just delivered a set of furniture worth more than 500,000 yuan ($80,600) to a client in Nanjing, the capital of Jiangsu province, and has three more such orders in hand.
"Summer is normally the off season for rosewood sales, but this year they were as hot then as they were at any other time," says Wang, who owns Dongyang Wanjia Rosewood Furniture Co.
The company expects a 20 percent rise in orders this year, and is based in a city which accounts for up to 80 percent of China's total rosewood furniture sales.
Li Liming, chairman of the Dongyang Rosewood Furniture Association, says that while furniture prices have grown by 10 percent each year, sales have raced ahead by at least double that.
In 2013, the city's rosewood industry was worth 13.4 billion yuan and last year it was expected to top 15 billion yuan, with orders going across the globe.
"Chinese people have always loved rosewood furniture, but its appeal has been spreading fast, to Southeast Asia, especially, but also to some European countries."
Although exports still account for less than 15 percent of the association's member companies' total revenue, he is expecting that to rise significantly.
"Overseas buyers prefer high-end rosewood products, and many are starting to realize the only place they can find them are in China," he says.
Already five of his member companies have set up design divisions specifically to serve international clients.
"We expect within three to five years, exports will account for 20 to 30 percent of total revenue."
Chu Anh Tiep is a Vietnamese furniture dealer based in Dongyang who helps clients across Southeast Asia to buy high-end rosewood furniture from China.
"The Vietnamese nouveaux riches love rosewood furniture," he says.
"The wood is being imported there too from other Southeast Asian countries-but Vietnam does not have the processing skills that Chinese factories have."
Even though the prices of the best-known Chinese rosewood furniture can be at least 50 percent higher than those produced in Vietnam, he says, the demand for the best is driving his sales ever higher.