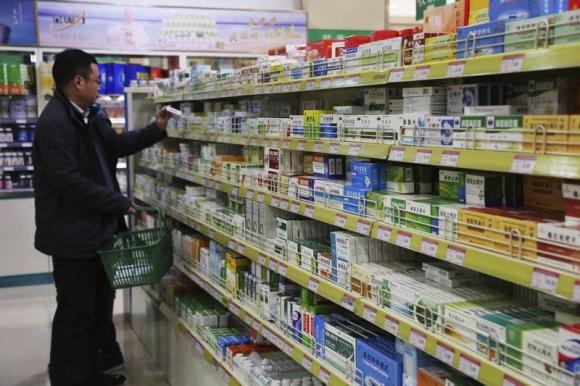 A customer shops at a pharmacy in Xuchang, Henan province March 8, 2014. Picture taken March 8, 2014. [Photo/Agencies] 
China will allow online sales of prescription drugs as early as this month, a policy that will open up an over 1 trillion yuan ($161 billion) market to online pharmacy operators like Alibaba Group Holding Ltd and Wal-Mart Stores Inc.
The China Food and Drug Administration (CFDA) is finalising which prescription medicines to approve for sale, a senior healthcare policy adviser told Reuters.
The policy would help reform a fragmented and opaque market controlled by State-run distributors and hospitals, brought into the spotlight last year by a bribery case which saw drugmaker GlaxoSmithKline PLC fined nearly $500 million.
"The policy will be released in January or February and the CFDA is actively working on it," said the adviser, who was not authorised to speak with media on the matter and so declined to be identified.
Hospitals currently account for around 70 percent of drugs sold to consumers. Among retailers, online pharmacies are restricted to selling over-the-counter medicines and healthcare products such as cough remedies and vitamin tablets.
The new policy could eventually allow online retail pharmacies such as Alibaba Health Information Technology Ltd and the pharmacy platform of JD.com Inc to wrest sales from hospitals.
Frank Zhao, chief financial officer at pharmacy chain China Jo-Jo Drugstores Inc, said the CFDA had was reviewing the list of prescription drugs for sale online.
"It may be a couple of days or weeks before the final list," he said.