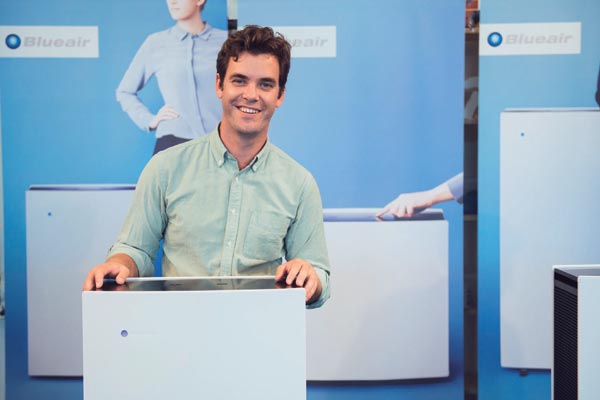 Swedish air purifier manufacturer Blueair has introduced new products in China, targeting villas, big flats and offices. [Photo/China Daily]
Blueair rolls out latest line as sales of air purifiers rise rapidly in China 
Bengt Rittri, founder and CEO of Swedish air purifier manufacturer Blueair AB, says he is often asked by Chinese customers why a man in Stockholm, Sweden, one of the cleanest cities in Europe, would decide to make air purifiers.
The answer? Stockholm's air is not really that clean, says the environmentalist and admitted perfectionist.
"On the weekends, I take my family to the countryside to enjoy the fresh air and the peacefulness, but when I return to the city, I get upset that my kids are exposed to the dirty air again. So I decided to make an air purifier."
Oh, if only Rittri lived in smoggy Beijing. While the air in Stockholm contains about 20,000 particles per liter such as pet hairs, cloth fibers, dust, and other small particles, on a heavily polluted day in Beijing, the particle number is more than 200,000, he says.
But what is bad news for Chinese residents, who suffer from year-round air pollution, is good for air purifier manufacturers. In China, the demand for high-end purifiers is through the roof.
According to the China Home Appliance Association, sales of air purifiers grew by 30 percent during the first half of 2014 compared with the same period the previous year.
In December, Blueair introduced its latest line of purifiers called the Blueair Pro, which comes in three sizes and features V-shaped filters that can purify air in a 100 square meter room. The company uses multiple layers of filtration, including ionization and highly activated carbon.
Sam Li, general manager of Blueair China, says the new series targets the upper middle class in China.
"The air purifier market is booming in China, especially in tier-one cities. But there is still no product for larger spaces such as villas, large flats and offices. This series is specially designed to fill this gap."
Established in 1996 in Stockholm, Blueair entered China in 2006, and started a branch in 2012. It sells products to more than 50 countries throughout Europe, North America and Asia and has three lines of purifiers in China: the Classic, the Sense and the Pro. Prices range from 3,590 yuan ($577) to 25,800 yuan. The most popular model is 603, which costs 12,980 yuan.