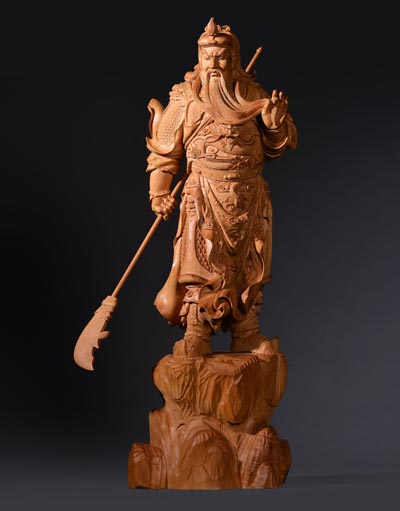 Available at an auction on Dec 4 in Beijing is a Guan Gong statue made of sandalwood by Lin Qingcai. Photo provided to China Daily
Huanghuali wood, which comes from a tree species that needs 500 years to fully grow, is rare in the markets and most collectors refuse to sell it. A Dec 4 auction, however, will present 29 pieces of furniture made from the precious wood, which has long been prized in Chinese culture and has become popular in the Western world during the last century.
Furniture made by the wood—a type of rosewood also called "yellow flowering pear"—used to be exclusive to the imperial families and the superrich in China from the Ming Dynasty (1368-1644). The number of antique furniture pieces made of huanghuali and sandalwood in the Ming and Qing Dynasties is said to be about 10,000, according to Hai Yan, a writer and the chair of the board of directors of Hotel Kunlun. About 70 percent are in the hands of foreign collectors, but a fine collection of classic pieces has recently been added to the regular display at the National Museum of China.
Due to the scarcity of the wood, antique pieces can command colossal prices—up to tens of millions of yuan—and there's always demand for new furniture in Ming style made from the valuable wood, which can cost 1 million yuan for a 1-meter-long piece.
Thus, the auction to be held by Poly Auction and Dajiazhijia, a furniture company that in 1982 started collecting huanghuali, is getting lots of attention.