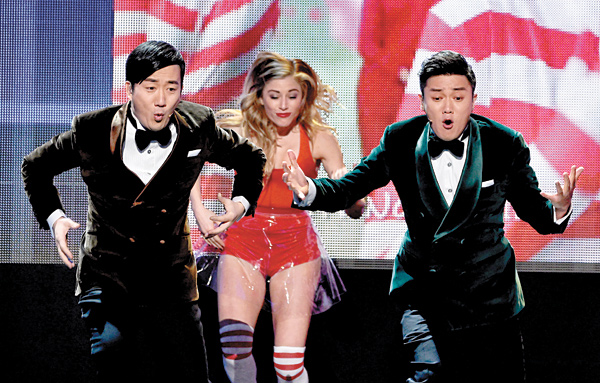 Recording artists Wang Taili (left) and Xiao Yang of the Chopsticks Brothers perform at the 2014 American Music Award sat the Nokia Theater Los Angeles, on Sunday. The pop duo's Little Apple won the International Song Award at the gala. KEVIN WINTER / GETTY IMAGES /AFP
Chinese duo the Chopstick Brothers and Zhang Jie have attracted controversy over winning two American Music Awards (AMAs) on Sunday, despite the organizers claiming that there were no bribes involved.
Mark Rafalowski, vice president of the International Division of Dick Clark Productions, which held the AMAs, told Xinhua that inviting Chinese singers to the awards is the first step in promoting the AMAs abroad.
The Chopstick Brothers won the International Song Award with their viral track Little Apple and Chinese singer Zhang Jie walked away with the International Artist Award.
However, according to videos released later on tudou.com, the Chopstick Brothers didn't even receive their award on stage. Instead, after the duo came off stage from performing a lip-synced version of Little Apple, they were hastily given the award by the host Pitbull. Zhang accepted the award in front of a live audience, but was only able to give a short acceptance speech in English thanking his wife and idol Michael Jackson and then sing a short section from Heal the World.
To everyone's dismay, the two Chinese segments were not part of the live broadcast of the show and instead had been filmed during the show's commercial breaks.
The legitimacy of the award was not only questioned in China, even Rolling Stone's website asked: "Did Zhang know the award wasn't being broadcast in the United States, and if so, why did he accept it in English?"
But Zhang's fan community saw the event differently, and his management even proclaimed the award was the same lifetime achievement recognition as the International Artist Award Of Excellence accepted by a few legendary acts like Michael Jackson, Whitney Houston, Aerosmith, Led Zeppelin,and Beyoncé.