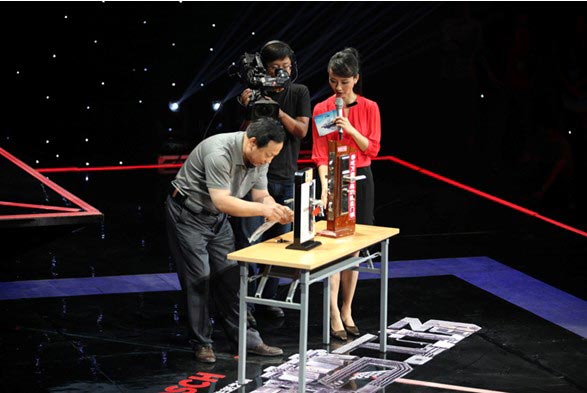 A participant displays his invention at China Central Television's popular science-and-education show, Inventors' Dream Workshop, in 2013. Photo provided to China Daily
While provincial satellite channels are draining their brains for program ideas to meet the audiences' growing needs for entertainment, China Central Television believes in another function of TV shows—social responsibility.
Though they often look serious, these CCTV productions have a way to win audiences. One of the good examples is Inventors' Dream Workshop.
After its well-received run on CCTV's science-and-education channel last year, the program has now successfully launched its second season, which started airing weekly on the same channel on Nov 21.
The new season brings together 48 new inventions, created by grassroots participants ranging from a junior high school student to a 70-year-old amateur engineer. All with official patent eligibility, these inventions include both cutting-edge technologies such as 3-D printing and practical home appliances like an easy-to-use oil press.
In addition to documenting these inventors' personal stories, the program will serve as a technology incubator, with participants demonstrating the use of their inventions in the studio where 50 investors bid in competition for products that they believe have a market potential.
According to CCTV, 29 projects have been sold through the program, with an estimated total investment of more than 300 million yuan ($48.89 million).