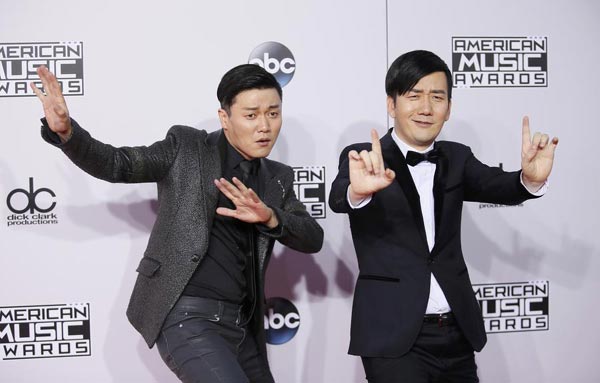 Musical act The Chopstick Brothers arrive at the 42nd American Music Awards in Los Angeles, California November 23, 2014.[Photo/Agencies]
China's Internet singing sensation Chopstick Brothers won the international song of the year award at the American Music Awards on Nov 24.
After South Korea's Psy, whose performed Gangnam Style two years ago, Chopstick Brothers is the second musicial group from Asia to perform on the stage of AMA.
Fans and YouKu, who introduced Chopstick Brothers to the world, were celebrating. On the contrary, many are skeptical about the entire event.
Did they lip-sync?
Many internet users criticized Chopstick Brothers for lip-synching at the AMAs and called it a "shame."
Xiao Yang, a member of Chopstick Brothers, did not deny the rumor.
"Little Apple is a dance number so we must dance and sing at the same time. If we did it live, we would run out of breath, as we are not professional singers."
"Our dancing skills are limited and the moves were changed quite a lot in the rehearsals to fit the timing schedules of the show. So we decided it's better to lip-sync," Wang said.